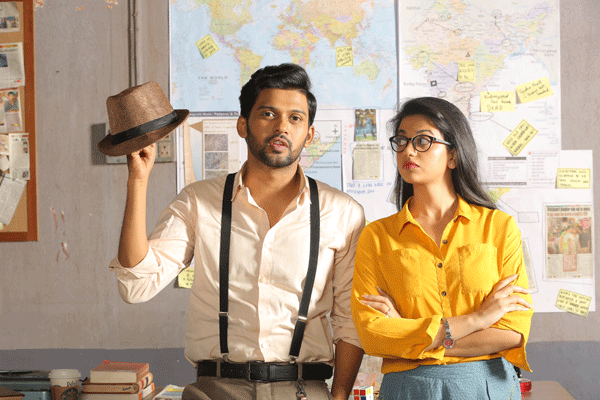 Agent Sai Srinivasa Athreya Review
Telugu360 Rating 3/5
Actor Naveen Polishetty, who featured in various web series, is making his debut as a hero with Agent Sai Srinivasa Atreya, a humorous detective thriller set in the backdrop of Nellore. Made on a shoestring budget by director Swaroop RSJ, the film stars a bunch of new actors.
Story:
A happy-go-lucky detective Athreya runs Fathima Bureau of Investigation (FBI) in Nellore. He makes a living from resolving petty cases,until tasked with a murder mystery to crack. When Athreya temporarily landed in jail, takes up his jail mate's daughter missing case which in turn pushes him into much bigger net. How Athreya unravels the mystery surrounding the unidentified dead bodies is rest of the story
Analysis:
Core point of this film has never been discussed earlier in films. It has been smartly layered under a regular murder mystery plot. Story takes off as a regular petty cases investigation one, gets into a serious problem. The investigation of three murder cases, screenplay with layered suspects are interesting. First half of the film is of shorter duration, still a bit boring. In Second half, after the real investigation starts, the film is engaging for a while. However, the core point gets redundant after some point. Having 145 minutes of runtime without song breaks is a concern. However, the climax is good which gives a positive feeling while coming out of the theatre.
Direction by Swaroop RSJ is neat. While he has shown strength in refreshing theme, His drawback is over simplifying the things. Mark K Robin's music is okay. Camerawork is patchy and may be result of poor production values. Screenplay by Naveen and Swaroop is neat.
Performances:
Naveen Polishetty as detective ' SaiSrinivasaAthreya' is biggest asset of the film. His natural performance, ease in dialogue delivery are refreshing to watch on Telugu film screen. TFI found new raw talent in form of Naveen. New actress Shrutisharma plays his assistant in FBI-Nellore. She fits the bill of an assistant to the detective. Youtuber Suhaas played a role of another detective from FBI- Hasan. He is adequate.
Positives:
Naveen Polishetty performance
Agent Athreya's witty characterization
Core Story
Mystery in second half
Negatives:
Boring first half
Length – 145 minutes without songs
Over simplifying the things
Verdict:
Agent sai srinivasa ' is a whodunnit genre film that may appeal to new generation . It is suspenseful, smartly screen played one. Hero of the film Naveen polishetty shines in the title role, characterization is unique in recent times. On flipside , first half is boring.
Telugu360 Rating 3/5
Movie : Agent Sai Srinivasa Athreya
Release Date : 21 June 2019
Director: Swaroop RSJ
Cast : Naveen Polishetty , Shruti Sharma
Producer : Rahul Yadav Nakka