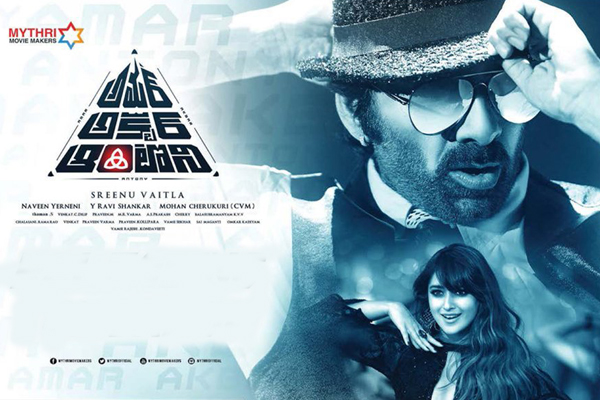 Amar Akbar Anthony 2018 Review Rating
Telugu360 Rating 2.25/5
Mass Maharaja Ravi Teja joined hands with Sreenu Vaitla for the fourth time and he is playing a triple role for the first time in his career. Titled as Amar Akbar Anthony, the film has Ileana as the female lead. Majority of the film's shoot happened in USA.
Can Ravi Teja and Sreenu Vaitla bounce back with AAA ? Let's find out.
Story:
Amar Akbar Anthony is a revenge drama based on 'Dissociative identity disorder'. In 2003, Two Indian families, from New York City get killed by their business partners. The victims' family members Amar (Raviteja), Aishu (Ileana) attempt to take revenge on the culprits – however both Amar / Aishu have dissociative identity disorder. Rest of the story is how Amar takes revenge overcoming his disorder.
Analysis:
Multiple personality disorder-based crime genre film is good to have with an upcoming star or small heroes. Attempting this serious film with Raviteja, who is known for his entertainment, is an experiment but unfortunately did not work out. Especially when the man behind the film Srinu Vaitla, audience would expect decent entertainment – if not a laugh riot. The film takes off in New York city on large canvas and up until 2003story isnarrated, the backdrop appears somewhat different. After being shifted to present day, the three main characters Amar, Akbar and Anthony may confuse audience rather than generate curiosity in first half. There is only one duet in first half which lowers further the commercial side of the film.
The comedy track written on Telugu Organizations in USA has srinu vaitla mark on it, but did not click much. Especially audience in India may not comprehend the fun about those Telugu organization leaders. Comedian Satya character as Jr. K.A. Paul irritates.
Second half opens in a bit interesting manner as the flashback is narrated. This part is better compared to rest of the film. However, after the flashback ends, movie graph goes down even more. Comedian Sunil is bit of an exception but sadly he couldn't rescue. Last song came out well on screen. Production values by Mythri movie makers are very good and entire film has been shot in USA.
Performances:
The usually energetic Raviteja looks quite pale in this film. Because of the characterization, he has to appear passive throught the film – which disappoints his fans. Ileana is not attractive anymore as heroine and a misfit for Aishu / Pooja role. Sayaji Shinde got a good lengthy role in this film. There are numerous villains in this film – not much to rave about them though.
Technical:
S.S. Thaman's songs are disappointing except last one. Cinematography by Venkat Dileep C. is fine, he is able to capture many USA locations well. The visuals appear grand in many scenes. Many american technicians worked as stunt coordinators but the whole effort is not backed by the script.:
Positives :
Good production values
Different backdrop to the story
Negatives :
Lack of entertainment
Poor revenge plot
Songs and commercial elements are a miss
Verdict:
'Amar Akbar Anthony' is yet another disappointing film from Srinu Vaitla. Contrary to his strength – comedy, the director has attempted a serious film with mass star Raviteja and seems to be paid price. This serious natured revenge drama may find it difficult to survive at the Box-office.
Telugu360 Rating 2.25/5
Release Date : 15th Nov, 2018
Director : Sreenu Vaitla
Music Director : S. Thaman
Choreography : Venkat C Dileep
Production House : Mythri Movie Makers
Starring : Ravi Teja, Ileana