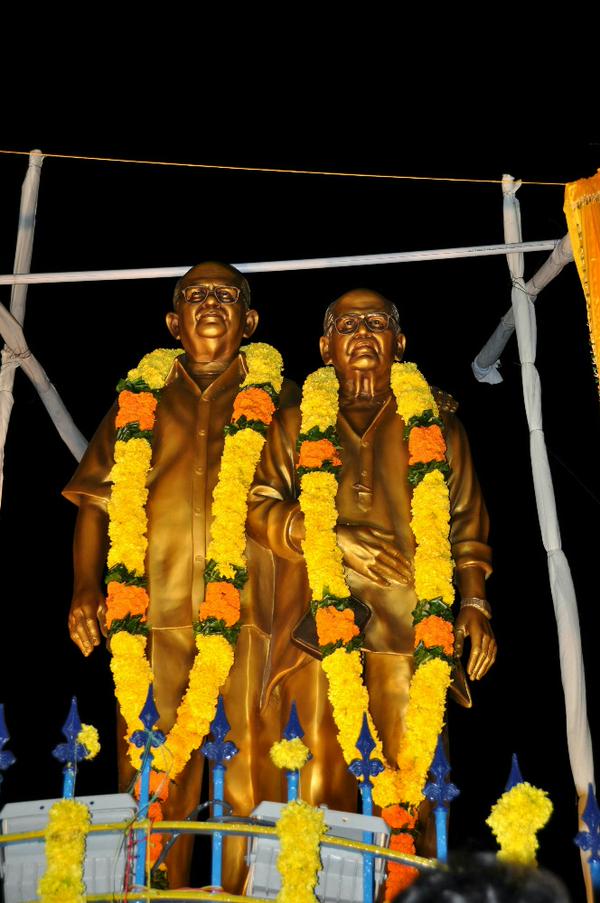 When NTR became the Chief Minister of Andhra Pradesh, he summoned the duo once again.
It was 4 am and the Chief Minister was in saffron robes. He asked Bapu-Ramana what they were doing. They said they just made a film "Bullet" with Krishnan Raju which flopped. "Shh.." said NTR as he wouldn't like to talk negative stuff at unearthly hours. He came to the point and told them why he called them. He wanted the duo to make a lasting educational program based on video lessons which will show the beauty of Telugu language and some core essentials of what kids should know from classes I to V. He told them as creators of great films with outstanding quality and taste, only Bapu and Ramana can do justice to this project. He asked them to quote a price for doing this project as soon as they can. Both of them looked at each other and decided to plunge into the project after doing a pilot study on how the education is taught at government schools at all district level but said they wouldn't like to take any remuneration because giving the essence of education itself is a blessing, so why get paid for it? NTR felt moved and had a flush of tears in his eyes and told his secretary, "These people won't take money for our project it seems. From today, you must give them state guest treatment and give them all the facilities they need to complete the pilot study and complete the project. Treat them as special as officers on special duty."
Please click here for Part — I
And the rest is again history, for Bapu and Ramana not only did a great study but also made several changes to the syllabus and methods of study and created mesmerizing lessons in their own inimitable style of blending knowledge with humor. The video lessons were completed upto class III and were appreciated by NTR but meanwhile the government changed and a new Congress government took shape under the leadership of N Janardhan Reddy.
The project got shelved much later but as long as NTR was there, he was committed to giving the best of resources to empower Bapu and Ramana to make a difference in teaching kids in primary grades. It made both of them run to the remotest schools in the most far-flung corners of the state and apprise the government on how lackadaisical the standards of teaching were. Buoyed by the response, NTR also commissioned both of them on the committee of Children's Film Society to look into the issues of making good and clean films for Children's viewing. In that gap between the release of "Bullet" and a film called "Kalyana Tamboolam", Bapu and Ramana lost a good deal of touch in making films as they worked with a fiery mission on revamping and re-energizing education with modern audio-visual inputs for raising brighter kids. It was not until "Pell Pustakam" came that the magic of Bapu and Ramana returned in films.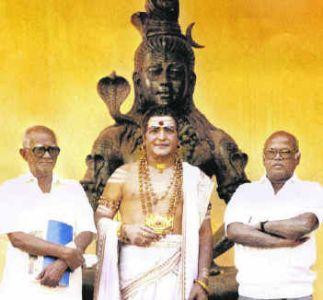 Back to the new government under N Janardhan Reddy. When they decided to relegate the committee members Bapu and Ramana to near oblivion, both of them gave a piece of their mind to Janardhan Reddy that outraged the CM of the day. That was the end of Bapu and Ramona, even as they were eager to move out of this "thankless" job which was getting politicized – and they never wanted to see themselves as politically-aligned to NTR or anybody. It is just that NTR felt both of them had the tenacity and commitment to work with feverish pace to deliver the things he felt might add huge value to the future generations who grow up on the right elements of schooling.
The dedication of Bapu and Ramana to the school project and the Children's Film Society even at the cost of making films moved NTR. Though the video project was introduced in 600 schools all over the state, the project never took off on the scale NTR envisaged because of the change of guard later. For three and a half years, both the writer and the director worked with passion forgetting the film world that made their fame. Both Bapu and Ramana remembered that but for NTR's commitment, they would have lost more money; at least they were treated like VIPs and got their work expensed at the cost of the government. The icing on the cake came much later. NTR government gave the prestigious Raghupathi Venkayya award to the duo in recognition of their service to the Telugu film industry – that was a stupendous recognition of the talent of the duo and a mark of achievement for NTR to highlight talent when it mattered – a trait that NTR never lost even if initially he faltered at times in doing that. He even recommended to PV Narasimha Rao to consider roping in Bapu and Ramana in the national committees of NCERT syllabus selection. But that is another story.
NTR's association with Bapu and Ramana reached the last leg for "Srinadha Kava Saarvabhowma". It was his dream to play the role of the Telugu romantic poet Srinatha and wanted the duo to make the film. He asked their opinion. As usual, they were forthright. They said it will not make any money because there were no mass elements. NTR told Ramona," Brother, I don't care. Some films are made for soul satisfaction. I am keen to make this film." And they went ahead, eighteen years after that biopic on Ramayana, in 1992. The film flopped, NTR played the role with pathos but this time, the Nata Ratna was too old for the role and past his prime, despite the best makeup and portrait profiles carefully chosen by Bapu. It became the thespian NTR's swan song, literally. The movie had exquisite poetry of "Srinatha Kavi" and the touch of Bapu and Ramana but vanished in days. Mostly shot in Rajahmundry and Godavari river banks, the film's collaboration between the three greats of Telugu Cinema was as poetic as the culmination of the statues of Bapu-Ramana close to the NTR's statue. It shows that dedicated souls get united in immortality, even after many years of their passing. Also, the three souls made so many films centered around river Godavari, that it is apt their statues are consecrated on its river banks together. It is important that despite a turbulent start in their association, both NTR and Bapu-Ramana were meticulous in their work ethic and thats why NTR sought them out whenever there was a grand undertaking. "Pani Rakshasulaki Pani Eppudu Doruku thundi."
— The End.