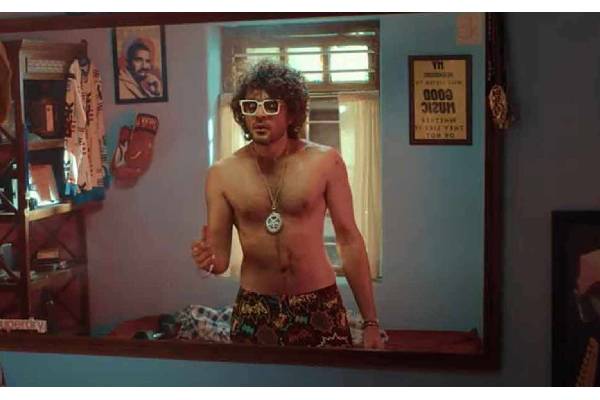 DJ Tillu Movie Review
DJ Tillu Movie Review
DJ Tillu is one small film that is making enough noise all over. The trailer and the songs packed a punch. DJ Tillu is a youthful urban rom-com directed by Vimal Krishna. Siddhu Jonnalagadda and Neha Shetty played the lead roles in this quirky comedy. Brahmaji and Prince played other important roles. The film is hitting the screens on Saturday during the Valentine's Day week. Sithara Entertainments are the producers and Sricharan Pakala, Ram Miryala are the music directors. Here is the film's review :
Story : 
Bala Gangadhar Tilak aka DJ Tillu (Siddhu Jonnalagadda) is a middle-class youth and an amateur DJ. Radhika (Neha Shetty), professional singer, gets herself in trouble in a murder case. The movie shows how Tillu helps Radhika escape the ordeal.
Analysis :
DJ Tillu takes off superbly with refreshing plot and racy screenplay. Hero Siddhu Jonnalagadda's dialogues and his ease in performance sets the theme in the right mode in the first few scenes. The contemporary songs add to the flow and the first 50 minutes of the film is a breeze. After the accidental murder of her boyfriend Radhika seeks Tillu's help and the duo is on the run as they get chased by a professional drinker (Narra Srinu), a club owner (Prince Cecil) and a police officer (Brahmaji). With everything in place for the makings of a great entertainer – the second just fizzles out thanks to overconfident writing and lack of an engaging plot.
Fun fact – we can see DJ Tillu doing everything expect the actual DJ work, barring the initial scenes. Pretty much a crime comedy genre, the movie has nothing to do with his profession – so you wonder why the title refers to 'DJ' role. Director Vimal Krishna has succeeded in getting the youth elements correct in initial episodes but seems clueless in executing the 'On the run' script. Court episodes with Pragati as judge are ridiculous, reckless writing in the guise of comedy.
Music director Sricharan Pakala's songs are already a decent hit and the picturization is good on a couple of songs. Thaman's background score suits the DJ theme in first half but is very loud and annoying in second half.
Siddhu Jonnalagadda is cool most part. Neha Shetty as Radhika is very average. Prince Cecil as a pervert is annoying. Brahmaji and Narra Srinu characters fail to generate any laughter.
Positives :
• Siddhu's characterization
• Dialogues
• Trendy music
• Thaman's BGM in the first half
Negatives :
• No story, silly plot
• Entire second half is boring
Verdict :
The movie DJ Tillu has an entertaining first half which is trendy and connects with the youth audience. Entire second half is farcical and boring. Overall, this 1 Hour 55 minutes film is more of OTT standards than the mainstream cinema. Given the pre-release buzz this film might generate some revenue at the box-office.
Telugu360 Rating : 2.5/5
Summary
Reviewer
Review Date
Reviewed Item
Author Rating