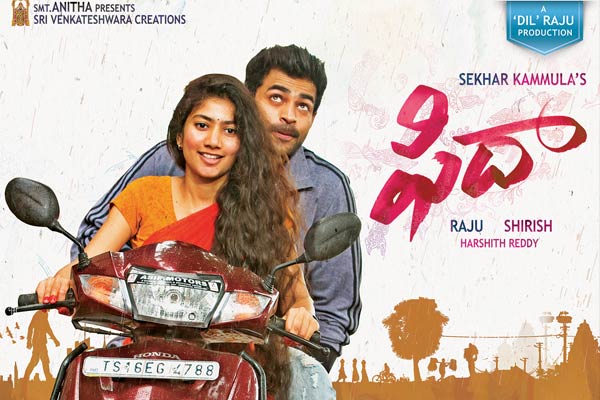 Sekhar Kammula's directorial film FIDAA starring Varun Tej , debutante Sai Pallavi was released on July 21st 2017, became one of the biggest hits at the overseas Box-office. Produced by Dil Raju, Fidaa has collected $2,058,419 to become 6th highest grosser of All-time in USA. Fidaa was one of very few movies where all involved parties made good money.
Fidaa has collected a distributor share of $1,151,973 i.e. 7.37 crores INR in USA from 131 locations. From Non-USA market, it has fetched another 30 lakhs INR, to make it a total distributor share of 7.67 crores in overseas
Profit Loss Calculation:
After expenses deduction, Fidaa's overseas share stands at 7 Crores. As the movie was sold for 4 crores , it has fetched 3 crores profit. Out of the profits, 1.25 Crores went to the distributor , remaining 1.75 crores to the local exhibitors as per the profit sharing model.
The money each group will bring home :
FIDAA had fetched  13.18 crore rupees [ $2,058,419 Gross]  as theatrical ticket sales in USA.
Here is how your ticket money had been split :
USA Theatres' Cut : 6.18 Cr
Producer : 4 Cr
Distributor  : 1.25 Cr
Exhibitors  : 1.75 Cr
(P.S : For calculation convenience, tax component and other trivial adjustments are not accounted)
FIDAA Overseas Profit Loss break down:
Theater Chain
Screens
Gross
Distributor Share
Cinemark
55

$859,879





$515,927

Others [ Locally
Owned ]
39
$587,175
$345,416
Regal
15
$304,947


$149,424

AMC
13
$240,064





$108,028
Marcus
9
$66,354


$33,177
Distributor Share in USA
131
$2,058,419

$1,151,973

VPF & Publicity
- $100,000
USA Share ( After VPF )
[ $1,051,973
] 6 Cr 73 Lakhs

Other Countries Revenue ( sold)
30 Lakhs
Overseas Total Share
7 Crores

Overseas Rights
4 Crores
Overseas Profit/Loss
3 Cr Profit