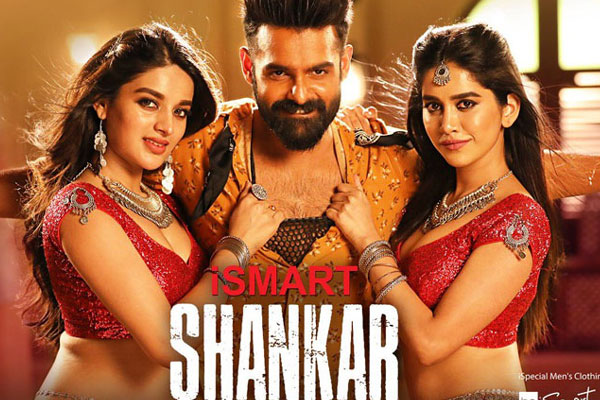 ismart shankar Review
ismart shankar Review
Telugu360 Rating 3/5
Maverick director PuriJagannadh and energetic actor Ram Pothineni teamed up for the first time and they are ready with an out and out mass entertainer titled as ISmart Shankar. The bold and intense trailers have evoked a decent response from mass audience and set good expectations on the film in commercial zone.
Can Puri deliver the much needed with I Smart Shankar ? Let's find out.
Story :
Shankar ( Ram) alias self-proclaimed 'UstaadIsmart Shankar' is a supari killer in Hyderabad.He's jailed after assassinating the chief minister, and escapes after a year. CBI pursues another high profile case and Shankar's case in parallel. CBI Officer (Satyadev) dies in a trap incident, the department want his memories to take the case further. A fictional surgery written around Hippocampus memory takes the story to next phase. How double memory Shankar takes on the culprits is the rest of the story
Analysis : 
This film scores less on story front, high on energy and entertainment levels. The racy screenplay, Puri's strength in infusing humor into the scene overcome majority of the shortcomings. For e.g. there is a major story element around the interval block which is potentially a laughing stock but PuriJagan made it acceptable by narrating it in lighter vein.
Right from the title cards movie takes off with loads of energy and continues till the interval. Puri who is famous for eccentric characterization for his hero, found a perfect match to elevate it further. Hero Ram is terrific in his elements and got into the skin of the tapori Shankar character. There were few concerns about his dialect from trailers, but in the film his dialogue delivery is good and appealing to masses. He danced like a magic in title song and his steps in 'Bonalu' Song, 'Dhimakhkharaab' songs are good as well. Telugu mass audience who have been missing these elements for a while will be entertained thoroughly. Interval raises hope on interesting second half.
Now comes the key part of the film, second half. Even this one takes off smoothly with some comedy but progress in very predictable manner and in revenge format. Story is very pale in second half, but the climax is Okay because of Mani Sharma's excellent background score.
Heroines NabhaNatesh, NiddhiAgerwal are good fit for their roles. Nabha's dialogues many of them are straight expletives. Niddhi Agerwal as neuroscientist played a class role, glamour show in one beach song each. Sayaji Shinde, Satyadev played CBI officers roles, they are fine.
Manisharma made his presence felt with commercial hit audio songs, good background score. Junaid Siddique's editing is excellent, so is Raj Thota's cinematography.
Positives :
Hyper Energy Ram performance
PuriJagan's Slick direction, Racy Screenplay
Dialogues
Mass Entertainment
Heroines Glamour, Three Songs
Negatives :
Wafer Thin Story
Flat second half
Liberal usage of expletives may drive families away
Verdict : 
Ismart Shankar is a paisa vasool commercial potboiler. Director Puri Jagan and Hero Ram complemented each other well, for Ram this is career best performance. First half is entertaining, but the second half goes flat with very predictive revenge formulaic path. Family audience may find it difficult to adjust to the Puri mark hard-hitting dialogues. This film may work well at Telugu States' Box office.
Telugu360 Rating 3/5