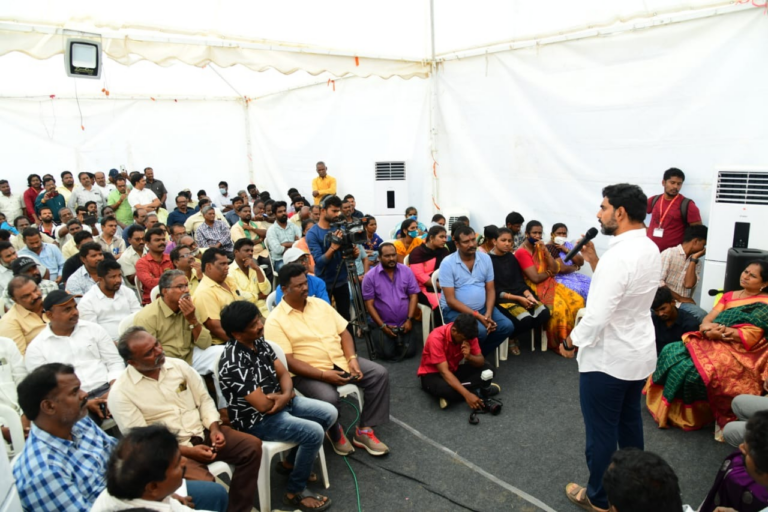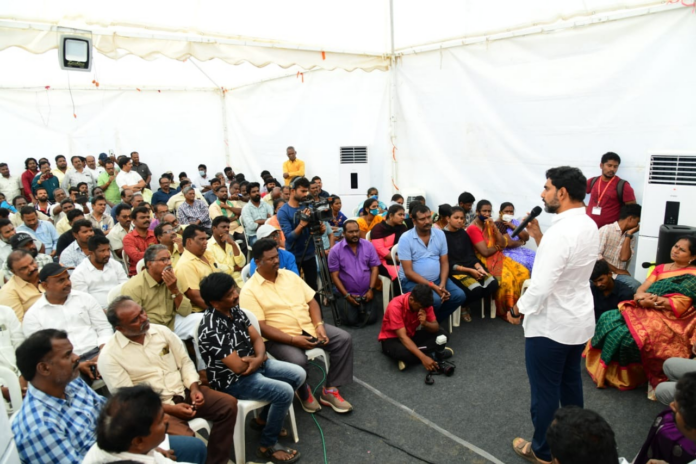 Chief Minister, Jagan Mohan Reddy, has been minting thousands of crores through illegal sand transport, said TDP general secretary, Nara Lokesh, here on Saturday.
Lokesh had an interaction with the construction workers at the campsite near Ankura Hospital, as part of his ongoing pada yatra 'Yuva Galam' on Saturday. The construction workers narrated their problems to Lokesh wherein they said that several workers are migrating to other States as they lost employment here due to the steep hike in the prices of sand, iron and other material.
The Jagan Mohan Reddy Government promised to pay Rs 10,000 each to save the workers from the predicament and even collected several documents for them but till now not even a single rupee is paid, they informed Lokesh.
The construction workers even complained to Mr Lokesh that the Building and Construction Workers Welfare Cess funds too have been diverted. Not even identity cards are being issued to them, they told Lokesh.
An electrician, Balaji, informed the TDP general secretary that at least 20 persons were working with him and since the permissions for new buildings are not being issued, they lost employment. "We do not want any alms from the Government but at least employment opportunities should be created for us to earn our livelihood," he told Lokesh.
Responding to their heart-rending problems, Lokesh said that all their issues will be resolved on a war footing basis once the TDP government is formed again. "In the Jagan rule gold may be available but not sand," he remarked.
Jagan is earning Rs 3 crore a day on illegal sale of sand and Rs 1,000 cr per month. "With this one can easily imagine how much money Jagan is minting through illegal sand sale," Lokesh observed. The price of sand during the TDP regime was a mere Rs 1,000 per tonne and after YSRCP came to power it went up to Rs 5,000, he noted.
Lokesh promised to initiate all possible welfare schemes for construction workers once the TDP is back in power and will also waive their loans.
Making it clear that the TDP will certainly come to their rescue, Lokesh said that the ruling party leaders here are illegally occupying private lands and public properties.