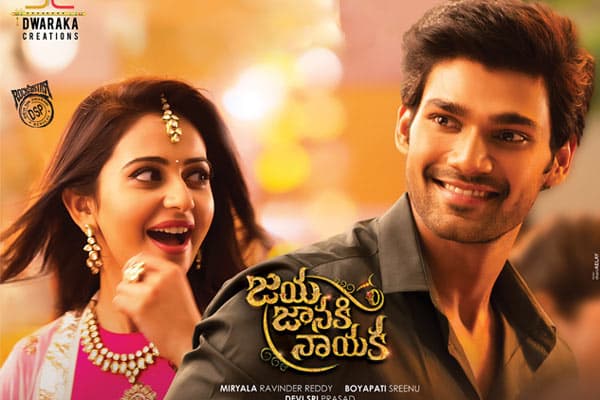 Jaya Janaki Nayaka Review
Telugu360 Rating : 2.75/5
Story:
Gagan (Bellamkonda Srinivas) lives with his father (Sharat Kumar) and elder brother (Nandu). They are rich industrialists. But they eat roadside food and drink daily and are used to an undisciplined lifestyle. Sweety (Rakul Preet) who is Gagan's college friend, starts visiting his home and brings some positive change in their home etiquette. Impressed with her attitude, Gagan falls in love with her.
Meanwhile, Sweety's father is caught in crossfire between two warring contractors Aswit Narayana Varma (Jagapati Babu) and Arun Pawar (Tarun Arora). To take revenge on Sweety's father they try to harm Sweety but Gagan stands against all odds to protect her.
Rest of the story is how villains constantly try to attack Sweety and related people and how Gagan protects them…
Analysis:
First half of the film starts with a slow pace, runs with no substance until two villains are introduced and confronted. Contrary to typical Boyapati mass style, in this film he tried a family story and a matured love story. In songs too, director alienated from his mass style and added lot of trendy picturisation.
As the story shifts to Vizag, the interval block fight is outstanding. Bellamkonda Srinivas has a muscular physique, so fights are believable. Let's party allnight, Rangu Rangu Kallajodu , Disco babu songs are good in first half. A non-stop step by Sai Srinivas in Just Chill song is awesome.
Second half too offers dance and fight sequences which appeal to masses. The highlight being an action block picturized at Hamsaladeevi. Rakul's deglamourized role in second half is appreciable. In second half, the drama was appealing. However, towards the climax, the story becomes very predictable.
Veede Veede Montage song, A for apple item song ( Catherine Tresa) are visually appealing . Devi Sri Prasad's rerecording is good.
Performances:
Bellamkonda Sreenivas has excelled in dances and fights. However, action wise he carries almost same expression throughout the film. His screen time is limited as much of the time is dedicated to bunch of villains. Jagapathi Babu is violent in the initial scenes, however his character lacked consistency. Rakul Preet Singh in her first ever performance oriented did a decent job. Catherine Tresa has done an item song.
Technicians:
Songs and Devi Sri Prasad's Re-recording are good. Picturisation of songs is good. Rishi Punjabi's camera work is very good. Punch dialogs on womenfolk worked well. Boyapati has shown his USP in action sequences. The story was not strong enough, so the director tried to portray the characters strongly
Verdict:
Jaya Janaki Nayaka will be liked by mass movie goers. Outstanding action episodes, well-choreographed and grandeur in the songs are the highlights. At Box-office, this movie may perform well in Telugu speaking states.⁠⁠⁠⁠
Telugu360 Rating : 2.75/5
Release Date : 11th Aug, 2017
Director : Boyapati Sreenu
Music Director : Devi Sri Prasad
Produced by : Dwaraka Creations
Cinematography : Rishi Panjabi
Starring : Bellamkonda Srinivas, Rakul Preet Singh, Pragya Jaiswal, Jagapathi Babu