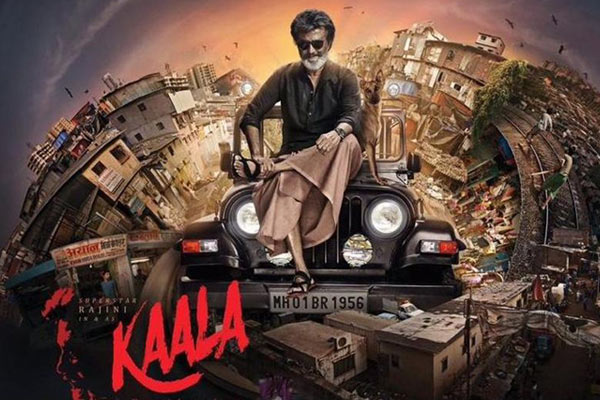 Rating 2.75
Kaala Movie Review — Superstar Rajinikanth's highly anticipated tentpole film Kaala is finally set for a grand release worldwide. After disappointing audience and trade circles with Kabali last year, Rajinikanth and Ranjith Pa have teamed up again for Kaala which is set in the backdrop of Mumbai. Let's see what Kaala has in store.
Story:
Settlers from Tamil Nadu are the major chunk of population in Mumbai's Dharavi area. Karikaalan alias Kaala is the undisputed king of Dharavi for years. When land mafia, in association with the men in power, try to evict the people from residential land of Dharavi, the unrest in society begins. Starts off as a typical land encroachment, the issue sparks off into a war between Kaala and Mumbai's don Hari Dada (Nana Patekar). Rest of the story showcases mass movements against the oppression, Kaala's family drama and Hari's revenge acts. Penultimate climax is one of a kind.
Performances:
Kaala tries to religiously fill in the missed elements in Kabali. Kaala re-introduces the true superstar of our age Rajinikanth's charisma and style. His unparalleled screen presence, neat performance and swagger is a treat for fans. Nanapatekar as Hari Baba is top class, after a while it is cool to watch him in full length role. One feels that he is the perfect antagonist for Rajini. Easwari Rao as Rajini's wife, Huma Qureshi as ex-girlfriend are good picks in casting. Pa. Rajnith's signature is all over on side actors' casting.
Analysis:
Kaala starts off slowly in a realistic movie format, gains momentum as it moves forward. Rajini gets introduced in a casual manner. He protects Dharavi city from land mafia and powerful men. As things turn to evacuation moves, Kaala rebels on the Hari dada men. The love track between Huma and Rajini is good, the dinner scene stands out. The bonding between Kaala and his wife also been dealt good. Though story wise it doesn't make much progress in first half, ends in engaging manner.
Second half is more Hari Dada, Kaala's series of confrontation scenes written in engaging manner. There are a number of confrontations scenes been Dharvi denizens and Hari Baba's men. However, this becomes a bit repetitive in the second half and might not connect well especially with telugu audience. After a few highlight scenes in the second half, movie goes downhill from there. Climax is a big letdown. On numerous occasions, the dialogues match real life Rajini's political ambitions. On Kabali major complain was it's more Pa. Ranjith's film than Rajinikanth's. In this film they're able to overcome that complaint and it is 55% Rajinikanth, 45% Pa.Ranjith film though.
Technical:
Director Pa. Ranjith corrected many of his Kabali mistakes to some extent. His personal ideology reflected in the main theme, also in the way he handled numerous mass scenes. He has mastered the art of presenting the downtrodden people struggle; In addition, he utilized Rajini mass force to some extent in this film. Santosh Narayanan background score, Murali 's cinematography turns very supportive in this film's success. Production values are very good, film has lavish look.
Highlights:
The rain fight on a flyover
Interval block
Dialogues
Kaala – Minister (Sayaji) confrontation
Kaala – Hari Dada face off at latter's home
Unique Climax
Rajini's towering performance
Pa. Ranjith's strength in showcasing laborers struggle
Negatives:
Slow paced film
Forced family emotions
Telugu lyrics in songs are odd at times, while in Tamil they are good.
Theme might not appeal to all categories of audiences
Verdict:
Kaala presents vintage Rajinikanth and his elements in a stylized manner. With its solid casting, brilliant technical values 'Kaala' may appeal to fans and masses, though a routine theme. Second half couldn't match the first one, but on a whole it is a satisfactory watching experience if you don't mind slow paced narration at times. At Box-office, Tamil version may work better than Telugu one.
Rating 2.75