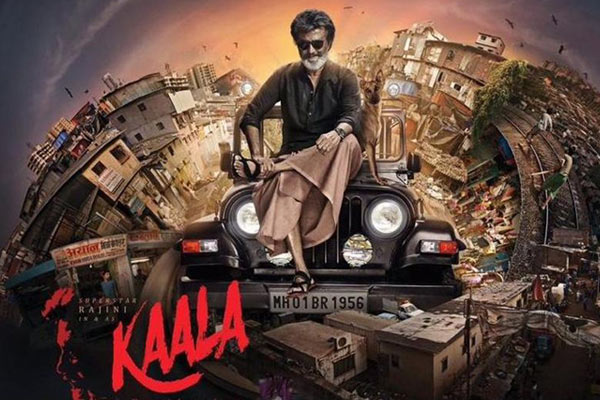 Kaala Review
Kaala Review
Final Report: 
Pa. Ranjith's ' Kaala ' rebels against oppression of powerful ( in Government ) , elevates mass superstar Rajini in a way appealing to fans and masses.
Eviction of Slums, Rebel movements ( with a flavor of New age Dalit movements ) are dealt aptly by the director , backed by technical team's brilliance ( Background score & Cinematography are excellent )
However , slow paced narration and linearly narrated single point theme are boring at times.
Highlights :
Thalaiva Rajini's mass elevation with in a stylish manner especially in Flyover fight , Interval block and Police Station scenes
Pro-Poor Theme with Rajini political aspiration dialogues
Honestly sticking to the core theme
Negatives :
Slow Narration – a typical of Pa. Ranjith
Songs. Especially lyrics in Telugu make you cringe.
Movie theme might not appeal to everyone.
Verdict :
Kaala is a good themed film without missing Rajini's mass elements. At Box-office , how masses will receive this slow paced film would be interesting
12:00 PM : With another fight in all colors, movie comes to an end. Final report in a while
11:52 PM : Fights between both factions continue well into the second half Rajini as he can only do plays the larger than live savior. But is it too much to take in!
11:48 PM : Movie graph is little bit inconsistent. While Rajini elevation scenes work , family scenes slow down the pace now and then.
11:30 PM : Kaala drives a big movement bringing Mumbai to standstill. As it is typical with Pa Ranjith movies, Movie runs on a single point agenda of fighting for rights
11:17 PM : Another confrontation scene with Hari Dada. "Nela neeku adhikaram Nela maaku jeevitham" sums up the theme of the movie.
11:11 PM : A significant event as Kaala and family are returning from the police station post confrontation.
11:00 PM : Kaala Shiyaji Shinde across table discussion is good. Rajini mass. Fans will go Ga Ga over this.
First half report: Kaala is a movie that showcases slum people fighting against local leaders, who are planning on encroaching Dharavi for 'Pure Mumbai' project.
There is not much from story front in first half except setting premise for a confrontation between Kaala and Hari Dada.
The direction is realistic. Pa. Ranjith has discussed slum people issues well. Many dialogues help Rajinikanth political aspirations
Flyover fight ( in rain ) is superb , Interval block is Rajini Elevation.
Flyover fight ( in rain ) is superb
10:30 PM : Pre Interval rain fight that might appeal to the masses.
10:12 PM : It's a tussle for Dharvi land. 'Pure Mumbai' project is cause of contention between Kaala and others.
10:02 PM : Chittamma song – Kaala recollects his experiences with Zareena.
09:48 PM : Flashback between Kaala and Zareena is deftly narrated with just visuals.
09:38 PM : Yama Gretu shot in Dharvi with background of elections. Rajini's songs at the end give the extra kick
09:28 PM : Sampath Raj tries to disrupt a Dhobhi ghat community in Dharvi Mumbai. Rajaji kaala the savior
09:20 PM : Movie starts off explaining the significance of owning land in independent India
09:15 PM : #Showtime
Kaala Review Superstar Rajinikanth's highly anticipated tentpole film Kaala is finally set for a grand release worldwide. After disappointing audience and trade circles with Kabali last year, Rajinikanth and Ranjith Pa have teamed up again for Kaala which is set in the backdrop of Mumbai.
Featuring an ensemble cast in the form of Nana Patekar, Huma Qureshi, Sampath and few others, Kaala showcases Rajinikanth as a saviour of masses who fights for the oppressed dwelling in Mumbai slums. The trailers and teasers have received a roaring response from audience.
Kaala Review After good round of promotions, Kaala is releasing today. Can the Rajini – Ranjith combo deliver a big hit this time. Let's find out.
Release Date : 7th June , 2018
Director : Pa. Ranjith
Music Director : Santhosh Narayanan
Choreography : Murali G
Producer : Dhanush
Starring : Rajinikanth, Nana Patekar, Huma Qureshi