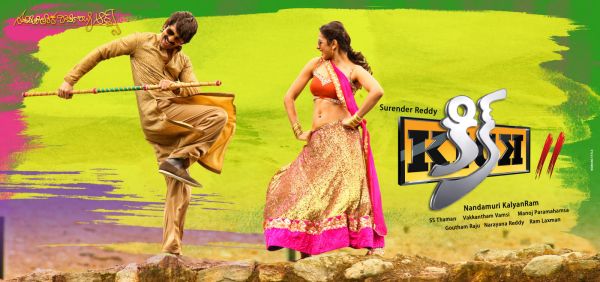 [intro]"Kick-2″ was widely expected to entertain with a winning plot of a super hit franchise. But it misfires with a forgettable fare and eccentric treatment. [/intro]
Telugu360 Rating : 2.25/5
An unprecedented blitzkreig has preceded the promotion of "Kick-2". Touted as Tollywood's costliest sequel, "Kick-2" had everything going for it – a producer no less than Nandamuri Kalyana Ram who earlier delivered a superhit film this year "Pataas", a bankable star Ravi Teja, an in-form starlet Rakul Preet Singh who is on a purple patch, a director Surendar Reddy who delivered the highest grosser last year "Race Gurram", a bench of super-talented character artists from Bollywood and Tollywood and a bevy of villains led by evil-personified RaviKishan – the superstar of Bhojpuri films. On top of it all, it had the kicked-up punch of "Kick" in the franchise which promised treasures that even Yuan devaluation cannot bring. But the film is a mighty bore and creates fatigue in watching it – of which most of the 161 minutes duration is filled with weary and artificial emotions, loosened with over-stretched comedy and massive dosages of violence that will freak you out.
The story opens like a promising sequel to the original "Kick". Senior Ravi Teja lives those hide-and-seek run-ins with Sam and relocates to America to start a restaurant. While his peculiarity is to do anything for the "kick" of it, his son Robin Hood (Ravi Teja) grows up with a different "kick" – he seeks comfort at any cost, even to the point of being utterly selfish and insensitive to others' feelings. But he is a medico and wants to build a corporate hospital for which he approaches his father. The senior gives him original documents of a land parcel in India that is long under illegal occupancy of Mangal Singh (Aashish Vidyarthi). One thing leads to another before Robin Hood bumps into Rakul Preet Singh and the village of Vilaspur where the dreaded Thakur Soloman Singh (Ravikishan) keeps the entire village on tight leash and unimaginable torture. What is the connection between his lover Rakul Preet and the village of Vilaspur? What is the story that binds Ravi Teja to this village which changes his destiny? What is the role of Brahmanandam in this setting? Would Robin Hood tame the village warlords and make it back? There are plenty of queer, funny and outrageously bizarre twists in the plot with hyperbola after hyperbola leading to shallow emotions.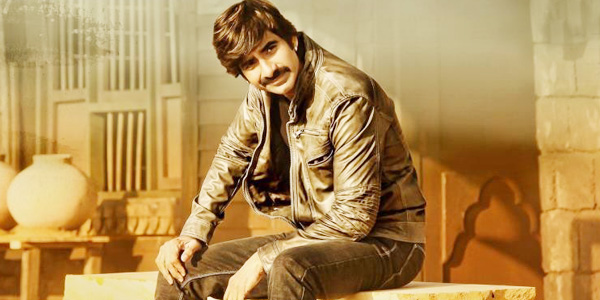 The drawback is not Surendar Reddy's screenplay – it is racy and interesting. The fault lies in his story selection – it has many loose ends with poor characterisations and implausibilities. A village in Bihar is shown which has a picturesque Sholay Ramgarh-like village setting but it is perfectly lawless where the entire village lives in despair about a mining baron who terrorises all the villagers into painful submission. It is shown as an oasis that is surrounded by miles and miles of desert-like acreage which has a railway station but doesn't have a police station or even a station master. Whether mining can happen in a desert is big question. While the guns rule the village, the girl who runs away from the village in search of a valiant savior like Ravi Teja wears partywear and sips coffee in five-star hotels to woo the hero but doesn't escalate matters to the city police or ministers. The village creates all the infrastructure to entice Ravi Teja including brands like KFC and Lays but nobody uses a prepaid phone. There are umpteen sequences to weave in mindless comedy scenes with Brahmanandam and between the villagers and Ravi Teja without a valid reason. No problem in creating comedy that is outlandish but the contribution towards enhancing the storyline or the depth of the hero or the emotions in connecting the villagers and Ravi Teja remain under-utilised and unconvincing right till the climax. It looks as if the director was unable to decide on where to draw the line between emotions and comedy, and failed miserably in achieving a connect with the audience that could have triggered the right emotions. At times, you needed pathos but comedy dances on screen in another role. At other times, love and sympathy should have got nurtured but the audience are drawn into either another mindless fight or needless comedy.
Despite having talent and a good grip on narration, Surendar fritters it in the search for entertainment as the main product when it should have been the bye-product of a good basic story invested with tight narratives and meaningful sub-plots. The overkill of comedy at any cost, even at the cost of moving the story forward throws up unbearable scenes even if you think there is uproar happening on screen. The comic scenes between Ashish Vidyarthi, Kovai Sarala and Posani and Ravi Teja give you a sickly feeling despite a comic touch. Even Brahmanandam comedy with Ravi Teja which follows the usual cycle of mutual revenge on each other's antics doesn't get a good feeling; it is stale and hence looks less spontaneous than some of their legendary screen-sharing sizzlers in the past. Surendar Reddy has a good grip on all departments and can elevate an ordinary story to great levels with his treatment but he can do better to pipe down on slapstick comedy and invest into story-telling with tighter narratives and more logicalities tied up. If some of the commercial angles were not exaggerated with over-the-top cinematic turns, and had the basic storyline stuck with two or three emotions, the movie could have been a winner. Bad editing and uncontrollable over-dramatic spurts in energy spoilt the movie like an over-sweet strawberry cake.
Logically, many points got missed. Illogical that the villain's son rapes a girl openly in a party when ministers and VVIPs are watching in public glare and nobody questions what's happening. Illogical, that the village shows a few fair-skinned foreigners but nobody escalates the atrocities carried out by the robber baron Solomon Singh. Illogical, that all the folks learn Telugu language to impress Robin Hood and plot a mighty plan that escapes the vigil of the villains for so long. (Even in the scene, where the villagers are mugging up Balaji series on learning Telugu in 30 days, the director erroneously shows books to master other languages like Kannada, Malayalam, etc.). Absurd, that mining happens in a desert but nothing is shown of the mining activity nor of the government officials. More absurd, is the scene where Ravi Teja is in a plane about to take off but instead lands back in Hyderabad. Unlesss, you fake a cardiac arrest like Madhavan in the film "3 Idiots" it is impossible to come out of a flight thats about to take off.
There is a sloth and laziness in looking at things with care that crept into the film that undermines its overall worth. Can't believe an entire cast and crew of reasonable intelligence has allowed a zombie plot like this to invade our peace of mind — neither the sewage of atavastic violence nor the attempts of puerrile laughter can redeem this film. Ravi Teja the oldest angry-young man in Tollywood who gave energetic hits in the past looks terribly old and past his prime. He may have lost weight but the face couldn't conceal his age. His best dialogue in the film is the way he takes a dig at both the Chief Ministers of Telugu states in one scene, most of the antics otherwise look the same as before. Rakul Preet Singh is glamorous and pulls it off in one or two songs with her looks and dressing but she is still raw in acting. Performance is not just wincing, grimacing and smiling for a heroine. The only paisa-vasool dialogue in the film is by Tanikella Bharani at the climax of the film. Ravikishan looks menacing with his cat-eyeball looks and hideous expressions and delivers a knockout performance. The entire "Jabardast" gang of comedians show up in the film; one of them gets bizarrely mutilated by the villain – a cardinal sin in movies; never create sympathy with comedian actors. The rest of the gang from some of Bollywood's arty films like Rajpal Singh Yadav etc. are hopelessly under-utilised. Music by Thaman is good in songs but the BGM doesn't carry the emotions to the next level. The song "Janda Pai Kapi Raju" is a lovely track but the irony of Ravi Teja's characterization dilutes the impact of the song. On the whole, "Kick-2" is a disaster movie for the makers and Ravi Teja and a lesson on how lazy editing, piecemeal directorial approach and an over-pompous, flippant treatment can make a bloody mess of an average story. Far from expectations, "Kick-2" will not be giving you goosebumps, it will give you pimples and headaches.
Telugu360 Rating :  2.25/5