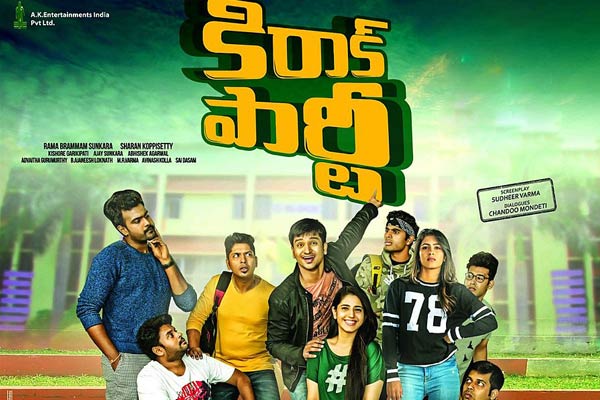 Kirrak Party Review
Telugu360 Rating 2.75/5
Story:
Kirrak Party has a wafer-thin story. This film is about life of students in engineering college which starts with first year of protagonist Krishna & friends and ends with their farewell party. In between this fun intended story, a short love track and another emotional track have been inserted. Focused on sweet memories and bitter experiences of any engineering student, Kirrak Party is scenes driven screenplay.
Performances:
Nikhil Siddharth is impressive as Krishna, with dual shades. As the man who falls in love with senior first, then with junior girl in college he performed well. Simran Pareenja as Meera is very suitable for the role. The other heroine Samyuktha hegde as Satya got very limited role and is not so impressive. Krishna's friends casting is adequate, as they did not prefer for seasoned artists which resulted some freshness into the characters.
Analysis:
Kirrak party begins with beaten to death college scenes but narrated with enough humour for first one hour into the film. It is a journey back to engineering college days. With ragging in hostels, fights with seniors, full attendance to glamorous female lecturers' classes and Answer sheets replacement etc. episodes it is an out and out dejavu feeling for a while. This film has some elements inspired from premam, Autograph and 3-idiots. The comparison with those films ends here, but not in overall impact. Some scenes are written fresh, but Kirrak party gets repetitive after a point. Though comedy is good in parts, its not a laugh riot. The self-discovery part of Krishna, driven by Meera is the best part of the film but it lasts for shorter duration. The humanitarian angle towards a sex-worker thread has been done well.
Had the characterization of Krishna been strongly written, final impact would have been better. Jovial krishna gets serious in life after a key incident, but that serious characterization dilutes as the film progress. The transformations, emotions are not captured as they're supposed. May be in the Kannada version of this film, they might have succeeded. Another improvement area for this telugu version is 'nativity'. In Karnataka, there will be a very good mix of out of state students in every college. Hence the tamil group of students, their rivalry with hero etc. scenes fit Kannada nativity but retaining them to Telugu version has not been done properly. Songs picturization which is very key for college backdrop stories is also another downside of this film
Positives:
Humor in first One hour, partly in second half
Decent songs
Negatives:
Inconsistent comedy graph
No high moments
Lack of conflict in the story
Technical:
Technically this film has less strengths to talk about. Ajaneesh Loknath music which has been retained as is from Kannada version is good in parts. DamDare song is the hit one, remaining songs are situational ones. The songs are of melody genre and flow with the story narration. Photography is very inconsistent. Production values by AK entertainments are nearly adequate, could have been better.
Verdict:
Kirrak Party is entertaining in many parts which are based on engineering college life, though they are ain't a ribtickling comedy. Start to end this film is based on college days only. Hero characterization and Comedy graphs are bit inconsistent and lack author backing.
Overall, it is an OK film for the targeted audience.
Telugu360 Rating 2.75/5
Release Date : 16th March, 2018
Director : Sharan Koppisetty
Music Director : B. Ajaneesh Loknath
Choreography : Advaitha Gurumurthy
Production Company: AK Entertainments
Starring : Nikhil Siddharth, Simran Pareenja, Samyuktha Hegde