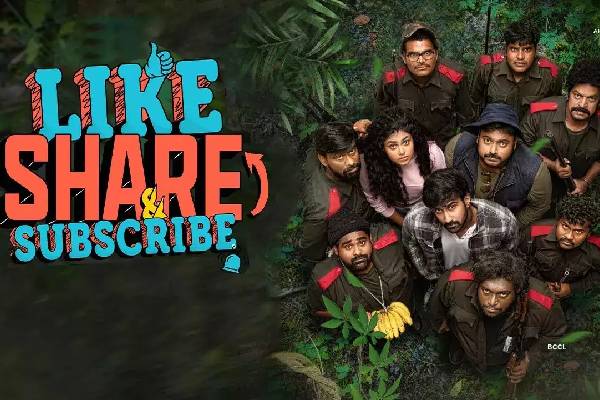 Like Share and Subscribe Movie Review
Telugu360 Rating 1.25/5
Story : Viplav alias vihari played by santosh sbhohan is a travel vlogger, his idol and popular vlogger Vasudha ( Faria Abdullah) is also into same hobby. Vihari and vasudha separately take Araku Valley trip and tangle into a common problem. In the forest area of Araku, A team of rebellions named PPF kidnaps the lead pair and rest of the story is how the kidnap drama unfolds
Analysis:
The premise of the film Is unique and well connects to the present-day digitalized audience. However, the unique flavor lasts very short time after the film begins. The Naxalites flashback puzzles the audience with its serious tone. But the seriousness turns mockery as soon as Brahmanna (Brahmaji) and team become Jabardasth comedy skit gang from being rebellions. The DGP, PPF (people's protection force) etc. characters are story wise well connected to the lead pair but the proceedings are unimpressive. The sarcastic comedy in films work only in rare cases, this genre needs much more skill from any director. The director of Like Share Subscribe Mr. Merlapaka Gandhi fails in writing good scenes around the unique premise. The output of 'Like share subscribe' is as pale as a Telugu TV comedy skit. The kidnap drama tests patience, casting Is poor as well. This film cannot even watchable on OTT platform for free.
Production values by Nirharika Entertainment are rich. Good amount has been spent on few songs; overall production is rich. Music directors Praveen , Ram Miriyala have tried to help this film but not enough output in terms of catchy tunes.
Performances: Santosh Shobhan fits the youtuber role well, he acted with ease. Faria who is not a lively person doesn't fit into the travel vlogger character. As always actor Brahmaji did well but there isn't enough support from the scenes.
Positives:
None
Negatives:
Poor comedy
Silly story
Weak direction
Verdict:
'Like Share Subscribe' is one of the senseless movies in recent times.The sarcastic comedy fails big time, no other element is appealing either. Santosh Shobhan & Faria Abdullah performance is adequate butthat is not enough to save this weak plot
Telugu360 Rating 1.25/5
Summary
Reviewer
Review Date
Reviewed Item
Author Rating