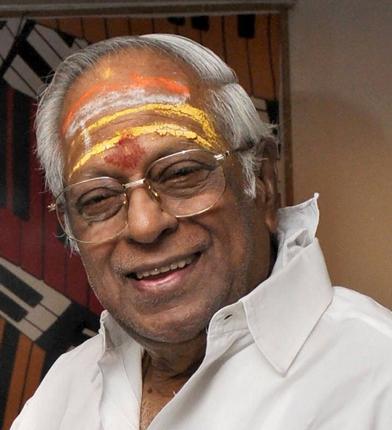 One of India's greatest melody-makers MS Viswanathan passed away at 87 leaving a a body of work that will remain unsurpassed. MSV, as he is affectionately called has created a tune bank that will remain a reference work for future historians, musicologists and filmographers who study both film music and light music. His legacy leaves several thousand film songs and albums spanning languages like Tamil, Telugu, Hindi, Malayalam and Kannada and counts upwards of 1200 films. Astonishing to note that his body of work sprang up from the times of the B&W stalwarts like Chittooru Nagayya and flourished all the way through the golden age of South Indian film music when the likes of MGR, NTR, ANR, Sivaji Ganesan, Gemini Genevan, Savithri, Jayalalitha, Krishna and then gave a feverish lift to the new generations of directors and actors who came in the twilight years when B&W turned to multicolour films – those years when modern cinema with awakened sensibilities ushered in a spectacular output of experimental music. [pullquote position="right"]MSV is the most prodigious music composers who dominated the songs of the golden era right till the dawn of modern music; his music appealed to both classes and masses and cut across generations. [/pullquote]It was when directors like A Bhimsingh, C V Sridhar, R C Sakhti and then K Balachander ushered in the boldest cinema which required new-age melodies that were set in the moods of beautiful ragas from Carnatic music but needed fresh and energetic tunes. MSV fitted the bill brilliantly at every stage of the film industry's transition years except the period when sound arrangements were revolutionised with the coming of age of two maestros – first, Ilaiyaraja and later, A R Rahman.
MSV's first foray into film music was through collaboration with TK Ramamoorty; both of them started their tutelage under the illustrious CR Subbaraman. In many de-classified interviews, the word came out that the song "Jagame Maaya" from ANR's "Devadas" was actually composed by the duo – Viswanathan – Ramamoorty. MSV was an ace harmonist and a pianist, Ramamoorty was trained in playing violin and had a majestic command over Ragas – their collaboration created ripples in both Telugu and Tamil films with directors aforesaid creating cult musical hits. Whereas Tamil superstars like MGR and Sivaji Genevan almost always insisted on Vishwanathan-Ramamoorty combination for their music, Telugu stars were still choosy but those few who gave the nod got lucky with songs that now figure amongst the most memorable songs of all time. The duo worked their magic in the B&W golden age with over 400 films with million-dollar buck lyricists of the day from both the languages – Marudakesi, Kannadasan, Vali from Tamil and Athreya, C Narayana Reddy and Veturi from Telugu – all have earned their accolades through mesmerising numbers composed by the V-R duo. [pullquote position="left"]His songs had lyrical beauty, a voice range that was tested to the hilt, a tempo and a meter that was unique to each song, and the most imaginative ascending and diminishing notes – all of these was embellished with an unmistakable stamp of melody and freshness[/pullquote] in Telugu, films like "Maa Gopi", "Ramu", "Tenali Ramakrishna", "Constable Kooturu", "Leta Manasulu", "Aada Bratuku", "Karna", "Santosham", "Manchi Chedu". After working together for few decades, the duo parted ways and decided to go solo. That was a sharp cut for TK Ramamoorty for whatever reasons they decided to part because unlike MSV, Ramamoorty never recovered to give his best output again. While Ramamoorty went on to compose film music in over 30 films and some raga-based albums, MSV's finest innings came as a solo composer as he went on from one big-bang hit after another big-bang hit and delivered another 700 film albums. His last film album was released in 2013; this year a selection of his finest background scores was released as an instrumental version by Saregama. Of course, the duo met again in an emotional re-union a few years earlier and decided to collaborate again for old times' sake – "Engirundo Vandan" was their last album together but it failed to bring the old magic back.
MSV's prolific output knew no bounds both as a collaborator with TKR and as a solo composer, his energy and effortless tuning abilities stayed strong right till the end. His greatest compositions, however, came under K Balachander's direction as he created a spectacularly hummable array of compositions that energised the listeners endlessly. His songs had lyrical beauty, a voice range that was tested to the hilt, a tempo and a meter that was unique to each song, and the most imaginative ascending and diminishing notes – all of these was embellished with an unmistakable stamp of melody and freshness. Whether it was a sad song, a club song, a lullaby, a duet or a background song, MSV's signature tuning cast a spell. Not many people know that MSV competed with the likes of KV Mahadevan, Ghantasala, TV Raju, AM Raja, S Rajeshwar Rao, Pendyala, Adi Narayana Rao in one era but also created a batch of refreshing composers like GK Venkatesh, Ilaiyaraja, AR Rahman by first taking them in his wings and teaching them the nuances of hit music. Years later, the same MSV competed with Ilaiyaraja and GK Venkatesh in creating hit tunes. In several interviews, both Ilaiyaraja and AR Rahman proudly acknowledge their composing talent to the musical scholarship of MSV. In fact, if you look at the longevity of MSV, it is obvious nobody would have ever delivered as many tunes and super-hit songs – it is a non-pareil phenomenon that will remain so for as long as anyone can come near MSV. What differentiates MSV's style of music is that he blended the most dynamic influences of the time from Western and Eastern schools of music and mixed them with his nodal understanding of Carnatic and Hindustani Classical music. As AR Rahman said in an interview, " MSV who came after KVM is one of the last of the musical geniuses who knew how to deliver ragas in doses, mini-doses and super-doses." The craze for his songs never withered although new technologies invaded the film music.
<!––nextpage––>
For a lifetime, he was open to influences from everybody composing music during his era, but MSV never shied from getting inspired from those musicians. He had openly acknowledged the role of Naushad as an informal mentor and even invited him for a concert in Mumbai. It seems Naushad first said he will sit for just half-hour but went on to stay till the end of the programme. If one sees the freshness and the repertoire of his compositions, one notices a composite influence of many music directors which made him more famous and endearing than KV Mahadevan and others, especially to the youth of the age. His music had the mathematical precision of a Naushad, the melody of a KVM and the novelty and rustic charms of an SD Burman while retaining the tuning mastery of an Ilaiyaraja. In the era that he started composing music for Balachander's films, he experimented with a gusto that may not be matched because such song situations may not come together in a film sequence. MSV composed songs based on ventriloquism ("Idi Katha Kaadu"), mimicry ("Anthuleni Katha"), puppetry ("Guppedu Manasu"), word-less songs ("Andamaina Anubhavam"), words set on humming tunes ("Akali Rajyam"), song lyrics based on film titles ("Maro Charithra") , children's banter ("Rama Dandu"), hip-hop music ("Andamaina Anubhavam"). There were several other genres he infused into his music with an eye for improvisation while giving a thrilling tune. Just the other day, SP Balasubramanyam said in an ETV programme that when they were shooting for "Andamaina Anubhavam" in Singapore, MSV fell so much in love with the place that he composed a new tune without any lyrics that instrumentally captures the scenic prosperity of Singapore. Such improvisations have not only enhanced his staying power but also gave a lease of life to several actors and singers. [pullquote position="left"]What differentiates MSV's style of music is that he blended the most dynamic influences of the time from Western and Eastern schools of music and mixed them with his nodal understanding of Carnatic and Hindustani Classical music[/pullquote]Kamal Hassan shared a fantastic chemistry with MSV before Ilaiyaraja entered the scene and delivered many more hits in his career as it entered the second wave. Rajinikanth, Chiranjeevi, Saritha, Sujatha, Jayaprada, Jayasudha all the prodigal finds of K Balachander struck gold with their audiences because of some of the hit songs belted out by MSV in their films. Among the singers who were unleashed afresh to fire upwards in their careers, the most notable were PB Srinivas, KJ Yesudas, LR Easwari besides the ubiquitous SPB and P Susheela. Talking about just these three singers in reverse order – LR Easwari's most enthralling chart-busters came from MSV while P Susheela and SPB went on to re-invent their singing voices under his masterly and nuanced calibration – a fact that both of them acknowledged in many shows. Of course, when it needed a weighty voice called Dr.Mangalampalli Balamuralikrishna, MSV aced up his compositions to heavenly best. His tuning ability has reached such iconic status that the Harvard University has instituted a syllabus in music course based on MSV's songs.
The Telugu audience have embraced MSV like their own man. They have given over 70 -80 films in his solo name but somehow gave short shrift to TK Ramamoorty – because Tollywood always sought success-mongering music directors and MSV gave it in hysterical doses. Even in the much-acclaimed NTR film "Simhabaludu" which bombed despite the costliest budget of the time, the songs composed by MSV stood out. "Sannajajulo" was the enchanting song MSV composed picturised on a chivalrous NTR and seductress Jayamalini. That film released in 1978 but NTR remembered MSV again in 1992 and offered him a chance to compose music for "Samrat Ashoka". It was not just NTR and Sivaji Ganesan, MSV's brand name was such a powerful magnet for music-lovers that he was called in to collaborate with many others whenever his presence was needed. He collaborated with other music directors like TV Raju, R Rajagopal, GK Venkatesh, Govardhnam, JV Raghavalu and Pamarthi in various films. Whenever you see a hypnotic melody that cannot be identified with the catalogue music director, remember it had to be MS Vishwanathan. For example, that song in "Devadasu" or that song in which NTR rides a jeep in tea estates. This musical genius also acted in films, gave countless light music concerts, and also sung in his own voice. His voice was last sought by the maestro AR Rahman in the Tamil version of "Amrutha" directed by Mani Ratnam. The Telugus were lucky to have the improvisations of MSV in many of the films that were hitherto made in Tamil originals. Because of the dubbing technology being in nascent stages, Telugus have got impeccable quality songs that were admitted by both MSV and K Balachander as the finest. One example is "Kurrallaoi Kurraaloi" ("Andamaina Anubhavam"). When Acharya Athreya wrote the lyrics for the Telugu version, MSV was stunned that these original thoughts of how youth are, has never occurred to the Tamil lyricist. Similarly, one of his melodies composed on Rajinikanth and Sangeetha in the film "Chilakamma Cheppindi" had a choice to retain the original number in Tamil but instead chose a dazzlingly fresh number which stole the show in Telugu. ("Kurradanukuni Kunukulu Teese"..). For another film, "Naa Laaga Endaro", MSV won the Nandi award from the state government.. Almost all stars of Telugu film industry had used MSV's songs. Surprisingly, while K Vishwanath never collaborated with MSV despite the influence of Kamal Hassan, Bapu used the services of MSV in "Pelleedu Pillalu" which is still considered one of the finest MSV tracks. In his autobiography, however, Bapu recalls he got chastised by MSV for "suggesting" alterations to the latter's tunes.
At 87, MSV had lived a regal life and given us rich music, never adulterated by the commercial aspects of cinema, never greedy for money and always remaining a student till his last breath. If anything can be held against him, it is that he didn't create a musical recording company like Ilaiyaraja did (Echo Recording company) or took the technical due diligence on the scale of Rahman. If you listen to the songs composed by MSV, despite his command over music and the metre and those roaring tunes, the interludes between the lyrics often got repeated. This was the only factor that failed to set him apart from the modern-day masters like Ilaiyaraja and ARR. Besides, the background scores of MSV never belonged to the new era – they were as banal and simple as the scores used by KVM and others. Another aspect that MSV didn't pay attention was to the quality of recording in his songs including the songs that came well until the eighties. Only few songs re-mastered on CD versions had successfully cancelled the noises that strained some of his albums. This is what set the composers who followed MSV differently. Despite these technical snags, the volume of MSV's music will be an encyclopaedia for generations to come. It will be well-nigh impossible for any composer to hold a candle to MSV's style and compositions. Titles like "Mellisai Mannar" (King of Light Music), "Paramacharya" (The Ultimate Guru), "Kalaimamani" (The Jewel of Art) and many doctorates and Lifetime Awards came the way of M S Vishwanathan but what will endure for ages is his musical works – they are folksy, uplifting, energetic and melodious – all at the same time. MSV's passing is the end of the longest-serving monarch of South film music but someone who brought respect to the world of Indian film music composers.