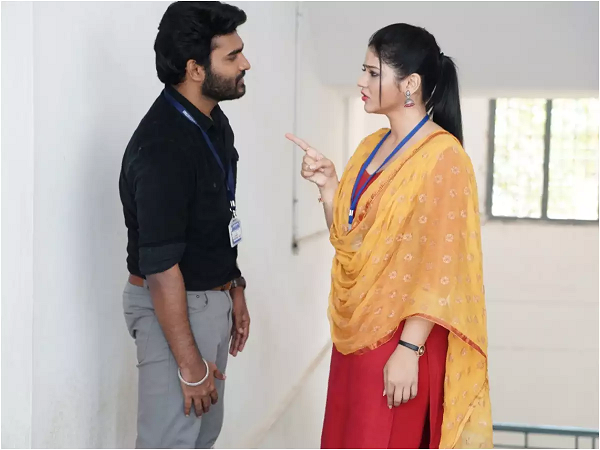 S R Kalyana Mandapam Movie Review
S R Kalyana Mandapam Movie Review
Telugu360 Rating 2.5/5
SR Kalyana Mandapam is the second film for Young hero Kiran Abbavaram who made his debut with rural backdrop film Raja Vaaru Rani Gaaru in 2019. Debutant director Sridhar Gade has directed the movie SR Kalyana Mandapam. Pramod and Raju produced the movie under Elite Entertainments and the music is composed by Chaitan Bharadwaj. Priyanka Jawalkar plays the heroine role in this film, Sai Kumar plays the key role as Hero's father. This film's promotional content has generated some buzz in the audience, it is releasing in theaters worldwide on August 6th, with premiers in USA on August 5th.
Story:
Set in Kadapa district Rayachoti, this film story revolves around S R Kalyana Mandapam owner – Dharma (Saikumar) and his son Kalyan (Kiran Abbavaram). Born rich, Dharma ruins his family business; and is humiliated by the townspeople for not being able to continue his father's legacy. Dharma's wife and their son Kalyan also do not like him. The movie unfolds to reveal the unfortunate events leading to the tense father-son relationship.
Analysis:
S R Kalyana Mandapam film story has good commercial elements at its core, but the narration is inconsistent and affected the movie adversely. Sai Kumar's role Dharma is identifiable with many small-town folks who come from rich families but end up running the riches to the ground. In his role as Dharma, senior actor Sai Kumar nailed it with his performance. So did Kiran Abbavaram who played the son's role. The father-son emotional climax is a plus point. The comedy aimed at youngsters works in parts, however casting relatively unknown faces, for what could have been an attempt at realism, backfired.
Kalyan-Sindhu love track is half-baked and lacks emotional connect. Priyanka Jawalkar plays Sindhu's character and she looks okay in this film.
Debutante director Sridhar Gade missed a good opportunity here, even when provided with a good base story. Music by Chaitan is adequate, runs well with the theme, the songs blend well into the story.
Positives:
– First Half comedy and storyline
– Emotional Climax,Father Son relation thread
– Good Dialogues
– Sai Kumar, Kiran Performances
Negatives:
– Second half is clichéd
– Poor casting except for the main ones
Verdict:
S R Kalyana Mandapam first half is adequate, the second half could have been better. Saikumar's performance and characterization are good, Father-Son relation thread works. However, the narration is very inconsistent. Overall, an average film that may work in small towns.
Telugu360 Rating 2.5/5
Summary
Reviewer
Review Date
Reviewed Item
Author Rating