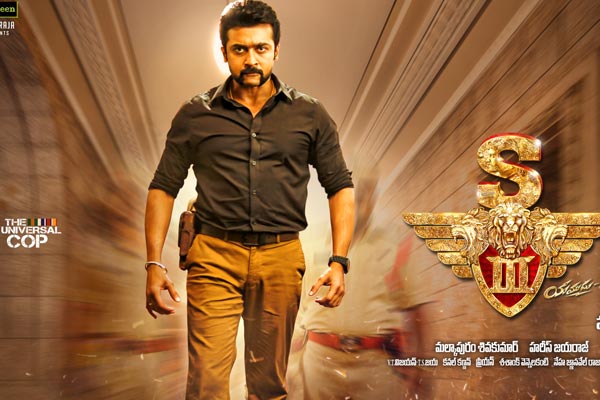 Suriya Singam Singham 3 Review,
Yamudu Review
 Si3 movie rating
Yamudu 3 movie review, S3 review
After getting postponed on numerous occasions, Suriya's much awaited cop drama Singam 3 is finally released today ( Feb 9th) all over. Singam-3 stars Shruthi Haasan and Anushka Shetty as the female leads. Singam's electrifying trailers promise high voltage action drama and Suriya will be seen as a dynamic cop in a larger than life characterization. S3 did a phenomenal prerelease business in Telugu states and is set to register thumping openings due to solo release. Directed by Hari, S3 is a production of Gnanavel Raja and has its music score done by Harris Jayraj. Let's us see if the Singam franchise continues to impress with its third part or not.
Story :
The third installment of 'Singam' franchise , Singam 3 ( titled ' Yamudu' in Telugu), is about a fierce cop Narasimha who investigates the murder of the police commissioner of Mangalore city. Narasimha ( Suriya ) , belongs to AP cadre, has been promoted to CBI in order to be transferred to Mangalore assignment. During the course of investigation, Suriya learns that local mafia don A.S. Reddy ( Sharad Saxena) was the one who murdered the police commissioner. While trying to close A.S.Reddy, Narasimha realizes that there is much bigger plot behind the commissioner murder. Further investigation drives Suriya towards the mining and steel baron Vittal Prasad ( Thakur Anoop Singh ) who is an immigrant citizen of Australia. Vittal , who is also the son of Indian union minister , operates a globally networked mafia of Medical waste , e-waste such toxic material dumping.
Watch it on big screen to know why an international mafia is connected to Mangalore local mafia, how Narasimha tracks down to Vittal and punishes latter.
Performances:
Suriya as Narasimha is simply superb, carries Singam 3 solely on his shoulders. With his fiery eyes, handle bar mustache and well-toned body, Suriya is a perfect fit for ruthless police officer role. His daring stunts, swift movements are eye feast for fans and masses. Anushka , in Suriya's wife character, has limited screen time and as she was totally out of shape. Shruti Hassan plays investigative journalist, has limited scenes as her co-heroine. She looked good in Wi Wi WI WiFi song. Senior actress Radhika has played an important role.Comedian Soori's comedy thread is totally annoying, one of the major negative points in this film. Robo Shankar got considerable role as Suriya's assistant officer, fits well to the role
Analysis:
Singam 3 has thin story line, entirely based on action scenes. Right from the word go, scene after another, it is all about a strict police officer's tirade against the bad. With background score being very loud, by the end of the movie audience will be exhausted. Previous parts of Singam 3, especially Singam 1, was filled with highly charged up elevation scenes, and succeeded. But in Part 3, only couple of episodes came out well. The one in Australia airport is highlight of the film. Comedian Soori's thread comes as an annoying speed breaker throughout the movie.
Movie picks up momentum right before the interval, continues the tempo for majority of the rest of the film. While the screenplay is superfast, no boring moments, but regular audience will be exhausted because of action episodes and loud BGM. Director Hari made a racy film for masses and fans of Suriya's ferocious Singam series.
Positives:
Suriya's intense looks and roaring performance
Gripping Action episodes in second half
Two songs: " Wi Wi Wi WiFi " and "Universal Cop" Montage song are appealing
High Budget Production Values
Racy Screenplay
Negatives:
Lack of emotional aspect
Annoying comedy thread, Songs. Songs hamper the pace of the movie
Looks of Anushka
Loud background score
Verdict:
Singam 3 is an outright action thriller that caters to the fans of Suriya and action movie lovers. The racy screenplay is one of the highlights, high intense action episods are impressive at times. However, the failed comedy thread and loudness in action scenes hampers the experience to some extent. Overall, Singam-3 is an average film which may do good business in mass centers.
Telugu360 Rating: 2.75/5
Cast : Suriya, Anushka Shetty, Shruti Hassan, Thakur Anoop Singh, Soori, Robo Shankar & Others.
Director: Hari
Producer: K. E. Gnanavel Raja
Music : Harris Jayaraj
Cinematographer: Priyan
Art Director: Kathir
Editor: V. T. Vijayan, T.S. Jay
Banner: Studio Green, Pen Movies
Release date: February 9, 2017
Running Time: 2 hours 36 minutes