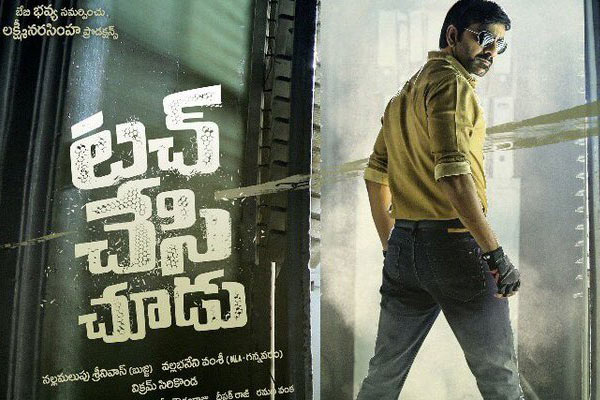 Touch chesi chudu review
Touch chesi chudu review
Telugu360 Rating : 2/5
Story:
Karthikeya (Ravi Teja), an industrialist who lives in Pondicherry falls in love with Pushpa ( Raashi Khanna) and wants to marry her. But, she rejects him after few encounters due to his loose tongue. As time progresses, she changes opinion and starts liking him. In the meantime, Karthikeya confronts with local goon Selvam. Due to family responsibilities he keeps a low profile. His original flashback opens in Hyderabad where he was an ACP who bashes miscreants.
Rauf Lala and his son Irfan Lala are defacto rulers in old city of hyderabad and a dynamic ACP Karthikeya been tasked to take out Rauf gang. Rest of the story is the ultimate showdown between the ACP and the Lala gang.
Performances:
Raviteja is good in his elements only in few parts of the film. As his characterization is not energetic in pondicherry backdrop role, he looked pale. One can see his trademark avataar only in the second half for an hour. Raashi Khanna role is adequate and looked glamorous. Seerat Kapoor role is abrupt and her makeup and looks are not taken due care.
Murali sharma as DGP got a substantial role and performed well. New Villain to Tollywood Freddy Daruwala is fine, another villain shaabaz khan fits the role perfectly. Suhasini, Jeeva, Sayaji Shinde, Vennela Kishore and Ajay got insignificant roles.
Technicians:
Technically, this film has no special mentions. Poor production values, bad music stands out on negative side apart from spineless direction.
Analysis:
In General, debut directors exhibit some spark atleast in few scenes or shows their forte in some department. But surprisingly Touch chesi chudu directed by debutante Vikram is so flat and tests patience right from the onset. The love track between Raviteja, Raashi is so boring and comedy scenes didn't work at all.
In the entire first half we can hardly find any highlights. RaviTeja's strengths are either outright action or Comedy scenes. Unfortunately both are missing in this film.
Interval twist is highly predictable. Once the story opens at Hyderabad, as flashback, it runs at a better pace. At this juncture, for 50 minutes, back to back mass elements may appeal to mass audience.
In a scene in which Karthikeya rescuing DGP's daughter, Mass Maharaj Raviteja was in his elements. Another scene where old city riots are obstructed by police has also been executed well.
Songs are awful and not even a single one is hummable. After some decent flow in narration, the climax is again pathetic. One might wonder why Ravi Teja accepted such an insipid script.
Verdict:
On the whole, Touch Chesi Chudu is a disastrous film in Ravi Teja's career. With it's boring first half, and a mediocre second half with few mass elements, this film is a sub-standard product. Debutante director Vikram Sirikonda has lost a golden opportunity and has no signs of making a long career in Tollywood.
Telugu360 Rating : 2/5
Release Date : 02nd Feb, 2018
Director : Vikram Sirikonda
Music Director : Pritam Chakraborty
Choreography : Richard Prasad
Producer : Nallamalupu Bujji
Starring : Ravi Teja, Raashi Khanna and Seerat Kapoor