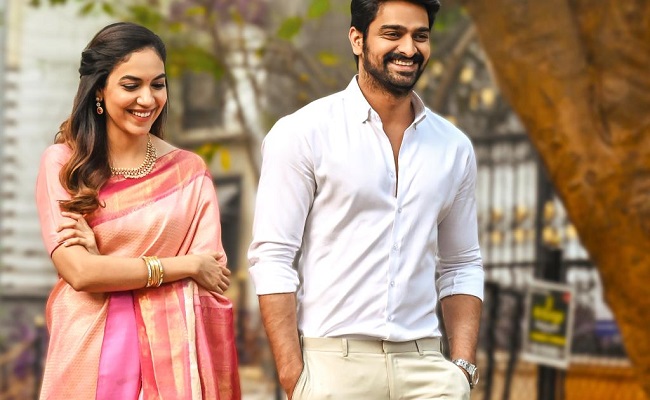 Varudu Kaavalenu review
Varudu Kaavalenu review
Story:
Akash, Bhoomi were college mates in Manipal Institute of Science and Technology. While in college days, Bhoomi couldn't express her love with Akash and they part ways after the education is complete. Bhoomi, who transforms into an authoritarian lady, manages a startup company in Hyderabad. After few years of no communication, Akash and Bhoomi meet each other on an architectural project. This time Akash likes her but hesitates to propose. Rest of the story is how each of them deals with their past and present love life.
Analysis:
'Varudu Kavalenu' is a simple story to start with and goes on lighter mode. The corporate office setup for Bhoomi ( Ritu Varma) as owner, Vennela Kishore and others as employees it is familiar recipe for some entertainment. As Akash (Naga Shaurya) comes to Hyderabad and take up a project with Bhoomi's company, the flirting starts. Within 30 minutes into the film, audience do take note of the impressive dialogues written by debutante writer Ganesh Ravuri. Debutante director Lakshmi Sowjanya scores well in making women audience feel connect to the scenes. First half passes with no big plot twists as such, its all keep it simple approach.
Second half starts with college flashback story which is unimpressive but ends in a quick 20 minutes session. Murali Sharma Nadiya conversation scene about how parents should think about their daughter's life stands out and best scene of the film. Story picks up momentum when Akash, Bhoomi and others go to a village for their colleague's marriage. Saptagiri's Lag comedy is hilarious for 15 minutes. Comedy scenes on Tiktok fanatic girls worked out a bit. Climax takes predictable path and ends on happy note.
Performances:
Naga Shaurya's best film in terms of his looks, dress sense. He is naturally classy as an architect, performed with ease. Ritu Varma who picks her characters best suit to her body language, yet again got impressive role as Bhoomi. Nadiya, Murali Sharma as parents of Bhoomi played their standard roles. Vennela Kishore, Praveen, Saptagiri handled comedy department.
Production values are of good standards, Sithara entertainments must be commended for the lavish spend. Music by Vishal C is impressive and on screen picturization is good for three songs. Cinematography by Vamsi captures frames elegantly, natural locations' aerial shots are cool. Overall good work by him
Positives:
Naga Shaurya , Ritu and Casting
Family Oriented clean film
Decent comedy entertainment
Good songs
Crisp runtime
Negatives :
Weak conflict point
Predictable plot
Verdict :
'Varudu Kaavalenu' is a good watch for family audience, average film for youngsters. There is adequate entertainment in both halves, packed with fresh dialogues. However, slow paced treatment, no high moments, and main plot lacks strong conflict point are flipside. Regardless of drawbacks, this is a class film aimed at urban sections.
Telugu360 Rating : 2.75/5
Director : Lakshmi Sowjanya
Producer :  Suryadevara Naga Vamsi
Starring : Naga Shaurya,Ritu Varma
Cinematography : Patchipulusu Vamsi
Editor :  Naveen Nooli
Music :  Vishal Chandrashekhar
Producer : Sithara Entertainments
Summary
Reviewer
Review Date
Reviewed Item
Author Rating