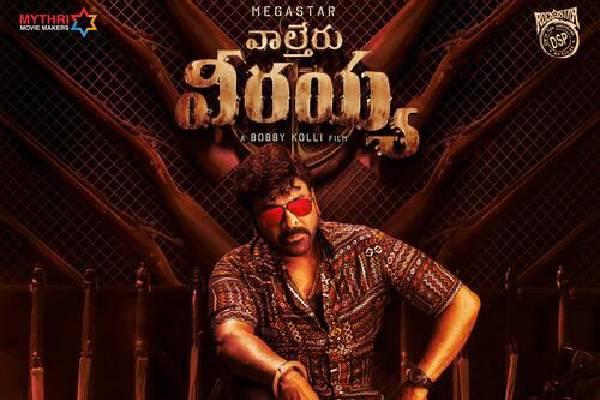 Waltair veerayya Review
Waltair veerayya Review
Telugu360 Rating : 2.25/5
Story:

Set in Vizag port, Veerayya (Chiru) and Kaala (Prakashraj) are friends and business partners. Kaala turns out to be evil, cheats on Veerayya, and runs away to Malaysia. The rest of the story revolves around Veerayya's journey to Malaysia to teach Kaala a lesson.
Analysis
Veerayya's character makes an entry with a shabby graphics episode where he rescues kidnapped Indian Naval Officers. Now, why does the Indian Army need help from a fisherman – chart this away as cinematic liberty. Moving on Veerayya is in Malaysia on assignment to capture the criminal Solomon (Bobby Simha) – who is also Kaala's brother. While is scope for comedy here, it does appear to be very forced and does nothing to help. Chiranjeevi tried hard – a few scenes hit, and the rest disappear into oblivion. The interval block is impressive. The first half has a few elements that old-school Chiranjeevi fans might like.
The second half opens with a back story. The brothers (Chinarjeevi as fisherman and Raviteja as ACP) childhood memories, and clashes resulting in the present-day rivalry are revealed. Kaala's betrayal of framing Veerayya as the culprit is pretty emotional.
This is a script with 0 high moments. It completely banks on senior hero Chiranjeevi's old-school antics. It's become a trend to do imitations of viral media in mainstream cinema, but designing a cheap skit like 'Jambalakidi Jaaru Mithai' on a big hero like Chiranjeevi is a very poor decision. The climax is clueless with endless mafia gang gun fights.
The Boss Party song has only one decent step that was already shown in trailers. Poonakalu Loading song is mass appealing.
Performances:
Megastar Chiranjeevi tried his best to pull off this mediocre script. While he is good at his elements, it is high time to quit his 40's age body language. Raviteja got a good role, and his performance is good. Shruti Haasan and Catherine got themselves into filler roles. Bobby Simha and Prakash Raj as villains are okay.
Technical :
Devisri Prasad did a reasonably good job with his songs but the background score isn't impressive. The budget is not visible on the screen except for the Boss Party song. VFX work is not to the mark.
Positives :
· Megastar
· Two Songs
Negatives :
· Very bland storytelling
· Mediocre action sequences
· No high moments
Verdict:
Waltair Veerayya trying to fulfill his sibling's dreams is the film's story. The movie fails to take off from the beginning. It has a very bland first half and keeps going downhill from there. Strictly for old-school Chiranjeevi fans.
Telugu360 Rating : 2.25/5
Summary
Reviewer
Review Date
Reviewed Item
Author Rating