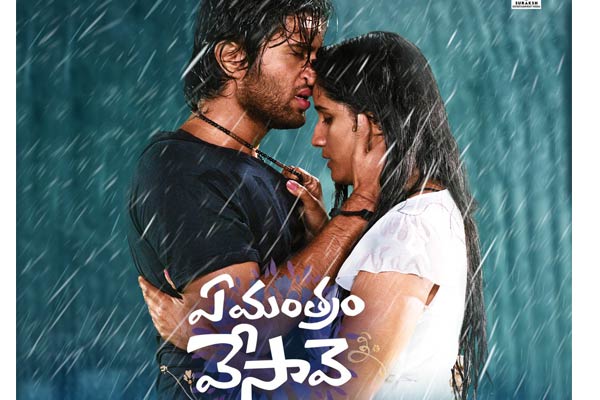 ye mantram vesave Review

Telugu360 Rating : 1.5/5
Story:
Ragamalika aka Rags (Shivani Singh) is a video game designer who wants to try differently than the violent gaming world. Often discouraged by the management she is still aspired to comeup with a novel game concept with realistic city hunt approach.
Nikhil aka Nikky (Vijay Deverakonda) is a gamefreak and online flirt who spends months of time marathon gaming or in scouting chatrooms for girls. After betting with friends, Nikky's aim is to drag Rags to love. Rags being a game designer, plays a treasure hunt like love challenge with Nikky. His first level of game is to identify her by the evening, there is a villains group to lure innocent girls online, in the name of love, eventually to auction them to foreigners. This group gate crashes into Nikky – Rags love game and rest of the story is how things unfold between these three.
Performances: Talented young actor Vijay is good in his looks but has limited scope for performance. His characterization will be a disappointment for his fans. Debutante shivani singh is adequate fit for the urbane characterization but beautywise doesn't have appealing features. Due to very low budget, rest of the casting is sub par, not even of tele serial quality.
Analysis:
Intention of the film 'ye mantram vesave' is good; story line is different than run-of-the-mill ones but execution is terribly poor. Initial part of the film is filled with scenes on youth who obsessed with video chat, flirt etc social media things. Gradually film shifts focus on to gaming world and brings in treasure hunt concept laced to the love track between the lead couple. Then another thread, darkside of the social media has been projected and has been used to convey some message towards the end.
The twist in the climax which is supposed to justify the whole film is not convincing. If this story had an appropriate budget, professional director and technicians, it would have been surely considered as an appreciable attempt. But the amateurish direction which is sub par to even youtube short film making skill is the main drawback, followed by very poor production values. Never in its 122 minutes duration, you can enjoy the cinematic experience. There are three songs merged into story flow, won't stand out much. Title 'Ye mantram vesave 'is a clickbait one with no relevance to the storyline. By looking at the title, if any one expects any regular love story elements, they'll be up for big disappointment.
Positives:
Contemporary, different story
Negatives:
Weak heroine , poor casting
Poor direction
Cheap production values
Poor script
No commercial elements
Verdict:
'Ye Mantram Vesave 'is hardly an youtube shortfilm in terms of quality. Though the intended message about social media addiction is appropriate, rest of the film has no cinematic value at all. This backlog film of Vijay Deverekonda, as expected, is a huge disappointment and a speed breaker film in his career.
Telugu360 Rating : 1.5/5