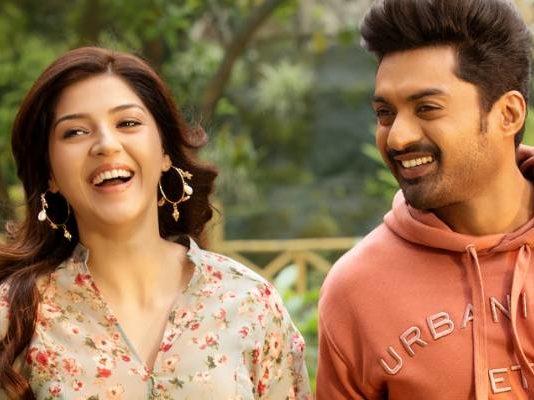 Entha Manchivaadavuraa Review
Entha Manchivaadavuraa Review
Telugu360 Rating : 2.25/5
Story :
Balu and Nandini are childhood friends , start an unique business after they grew up. Ever since he lost his parents, Balu wants to share the joy of togetherness with relatives around. Reflecting personal character , Balu starts " Emotional Suppliers " business which rents out relatives to the needy lonely families. With this backdrop, Balu goes as a son of Tanikella Bharani. Rest of the film is what are the ccnsequences of rental relatives
Analysis :
'Entha Manchivadavura' story has a feel good factor. The protagonist works to fill the void of those families suffer with loneliness. He by starts 'All is Well' company which rents out relatives , this crazy idea sounds like wierd to audience. However , few scenes are emotional and many are superficial.
To coverup the heaviness in the script , the director has inserted few entertaining moments written around TikTok / Youtube videos , but not adequate to rescue out from his old school direction , cliched scenes and tele-serial quality emotions.
First half of the film is adequate, things get bored as the film progresses. In second half , Vennela Kishore's comedy works to some extent. In the middle of second half another sub plot has been introduced. In the hill station Munnar , Balu – Nandini meet a silver jubilee couple Suhasini , Saratbanu and the backstory is another old school narration.
Finally ,towards the climax , the narration gets even heavier with series of overdose sentiment scenes
Lead pair Kalyan Ram and Mehrene are okay.!There are couple of pleasant songs , but satish vegesna couldn't show his strengths in handling the film
Technical :
The production values by Aditya Audio, who turned into production , are adequate. The came. Music by Gopi Sundar is good , two songs have been shot quite well.
Positives :
Feel Good Factor theme
Few Lighter moments
Two songs
Negatives :
Cliched direction
Overdose of sentiments
Old fashioned narration
Verdict :
Entha Manchivaadavura is an old fashioned family sentiment drama with a noble point. Though we have few lighter moments here and there , this film primarily suffers from insipid direction in second half. Overall , a disappointing film !
Telugu360 Rating : 2.25/5