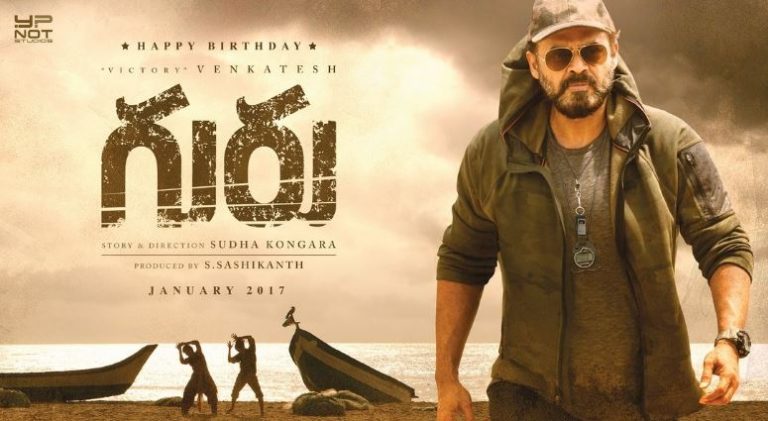 Guru review Guru Movie review
Guru review Guru Movie review
Of late, our heroes are coming out of comfort zone and doing path breaking films. Star hero Victory Venkatesh is the latest to join the bandwagon by doing a sport drama which is the official remake of Tamil-Hindi blockbuster 'Saala Khadoos'.
The film, which narrates the story of a washed-up boxer training a young girl, was directed by Sudha Kongara. Venky is sporting a rugged avatar in the film which also has Ritika Singh playing a prominent role. The film has generated a good buzz with the promising trailers. Y NOT studios has produced the film.
Let's see if Guru stays faithful to the original one. Here is the detailed review.
Story :
Aditya ( Venkatesh) is a national female boxing coach committed to the sport, but have attitude. His attitude towards his boss often turns hurdle in his career. As a disciplinary action, Aditya gets transferred from Sports Authority facility in Hissar to Vizag – which means he doesn't have a chance to become coach of leading talent.
In Vizag, Aditya happens to see a vegetable vendor girl who is very good at street fights. Despite being a girl, she is ready to take on even on men if she sees injustice. Impressed by her raw talent, Aditya picks Ramudu (Rishika Singh) for training
While in training Ramudu behaves irresponsibly, comes nearer to exit the sponsorship tournaments
Rest of the story is how Aditya puts Ramudu into perspective, make her a winner !
Analysis:
Those who have seen the original film, 'Saala Khadoos' or 'Irudhi Suttru' (Tamil version), will feel deja vu throughout the film as there is nothing new in the Telugu remake except Venky's face in place of Madhavan's. The only other noticeable difference is while Ritika played a fan of Dhanush in the original, she was shown as Pawan Kalyan's fan in Guru, to get the support of the matinee idol's unparalleled fan base.
Rest of the story and screenplay is plain carbon copy. Even a scene where the Academy Head forces Venkatesh to resign for his job looks exactly same as the original. Neither the table nor the sandwich that the Head eats during this scene was changed. This is just an example of how faithfully Guru was recreated, without bothering about making a few changes in at least a few scenes to bring freshness, by director Sudha Kongara, who directed the original.
In fact, a lot of scenes where Venky isn't involved are directly pasted from the original. This gave the makers a chance to wrap up the film in less number of days, roughly 50 and limited budget. These things however might not matter much to the audiences who haven't seen the original.
The director has done appreciable job in recreating the feel from the original which is not easy while remaking hit films. The performances of Venky and Ritika also made sure audiences don't bother about any other drawbacks. The film's first half moves swiftly and a solid interval block raises curiosity over the second half.
The transformation of Ritika to show her gratitude to her coach and the climax scenes are deftly handled. However, the problem is, almost all sports films look similar when it comes to climax. The similarities with the climax of bigger films like Sultan and Dangal could hurt Guru. The emotion-filled climax may look routine for an average viewer who has seen a handful of sports dramas.
Performances:
Venkatesh has given his best performance in a very long time. The actor's rugged look, unflinching delivery of cuss words and his egoistic characterisation are highlights of Guru. He has once again proved that no one but he can leave his starry image aside and do experimental films like these.
Ritika Singh's role is on par with Venky's and she has done a commendable job, no wonder she has won numerous awards for 'Saala Khadoos' and its Tamil version, 'Irudhi Suttru'. Nassar, Raghu Babu and Mumtaz Sorcar did justice to their respective characters.
Santosh Narayan's background music worked more effectively than his songs. 'Jingidi' song sung by Venky has come out really well and will be enjoyed by fans. Sudha Kongara has done a decent job but had she made noticeable changes and at least tried to present the film as a whole new one to the ones who had watched the original, the result would have been entirely different.
Verdict:
Guru is a decent film, which offers no high moments nor boring ones. With no commercial elements, at box-office this film may have limited scope. Watch it if you are a fan of Venkatesh or a fan of sports themed movies.
Telugu360 Rating 2.75/5
Release Date : March 31st, 2017
Director : Sudha Kongara
Music Director : Santosh Narayan
Producer : S.Sashikanth
Cinematography : KA Sakthivel
Starring : Venkatesh, Ritika Singh