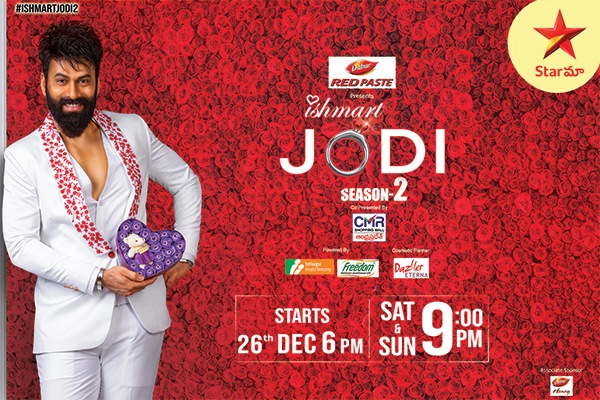 Ishmart Jodi season 2 is back on Star Maa from the 26th of December.
Ishmart Jodi, presented by Omkar is one of the most successful shows on Star Maa. The first season of the show had relentlessly entertained the massive audience of the channel. And now, adding to the Christmas celebrations, the show is coming forth with season 2.
The show is famous for bringing together celebrity pairs that are seen in various serials and shows on the channel. News is that the show currently is roping in Preethi Nigam- Nagesh, Baba Bhaskar-Revathi, Kaushal-Neelima, Amma Rajasekhar-Radha, Avinash-Anuja, Sivareddy-Swathi Reddy, Kaushik-Bhavya, Maheshwari-Sivanag, Ekanath-Harika, Lahari-Dhiren, Harshita-Vinay, and Vishwa-Shraddha.
Another attractive feature of the show is the entertainment the celebrities bring with their versatile personas some being completely different from their on-screen personas. A combination of these along with exciting games and rounds of competitions is certain to make the audience stick to the television screens.
Being directed by the star host of the channel, Omkar, the second season of Ishmart Jodi is already rumored to be a highly entertaining one. The grand launch of the show will be on the 26th of December at 6 PM. The regular episodes will be aired on the weekends at 9 PM. Only on Star Maa.
CLICK HERE!! for the Promo of The BIGGEST COUPLE Reality Show #IshmartJodi2.
Content Produced by: Indian Clicks, LLC