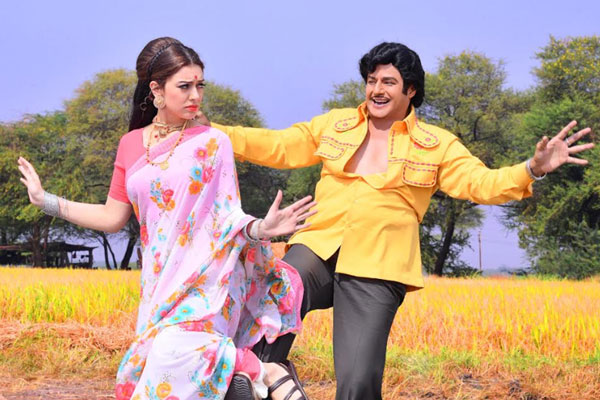 The epic saga of South India's most charismatic Chief Minister NTR and also India's most colorful (and animated) politician in independent India's history had lived a life full of trials and triumphs that went into ascendancy mode until he formed his own political party. When Nandamuri Balakrishna announced the biopic on NTR's life, there were anxious moments and walkouts by other creative people. The movie got a momentum of its own once Krish Jagarlamudi took the responsibility of wielding the megaphone. After watching the first part of "NTR-kathanayukudu", I must say Krish has not only directed it well but also gave it an evocative re-interpretation that will linger on forever. IN less than three hours, Krish spun a narrative without frills like a pseudo-narrator as in "Mahanati" to give us a glimpse of the Man, his first wife and the momentum that he created on silver screen with her prodding, growing from glowing self-confidence and intense self-belief and minting his magnetism on screen towards unprecedented material and later, political success.
What helped Krish is the vast material that is published (and still published) about the life of a man who pushed Tollywood to dream big and think big, experiment with multi-starrers, import superstars from other languages and even technicians like Shankar Jaikishan and C Ramachandra. Legions of memoirs by bureaucrats and contemporaries have given anecdotal evidences of the man, his personality and his driving sense of a self-fulfilling prophecy – in ways that only few others in cinema have done. It is tough for a family enterprise backed by NBK Films and actors from NTR's immediate family to achieve a fine balance between hagiography and biography but to be fair, barring two or three scenes where Avatar-like greatness and godliness is attributed to NTR or his son, the film gives you a thrill of experiencing how a farmer's son lived his dream with all the right moves and sagely advice to reach demi-god and godly status. There are at least three to four scenes that give you the goosebumps – when NTR dons the makeup as Lord Krishna, when he completes the day's shoot even after hearing a bereavement, when he shoots for a full day for allowing the cinematographer to affix ten-headed Ravana shot, and so on.
Lacing these anecdotes with occasional humor to re-interpret NTR's filmography before politics is not easy but Krish managed it well. He also walked on the razor's edge in dealing with the subtle but unbridled rivalry between the greatest two-horse race in any Film Industry – NTR and ANR. Those episodes which marked their near-simultaneous entry and the decision to establish Tollywood in Hyderabad give you a celebratory high as they unfold. Since ANR family already announced they won't be making any biopic in the unidimensional yet hugely successful life of ANR, those moments from the twentieth minute of the film when Sumanth appears as ANR to the time they both (ANR and NTR) light a cigarette together should be considered a well-considered mini-tribute to ANR as well.
Performance-wise, Balakrishna proved a chip off his great father in his portrayal as NTR despite ungainly body limitations and poor makeup (especially in the first half). One wonders why Balayya sported thinner moustache than even Kalyanaram (playing Harikrishna). He looked best as NTR in the second half, looking like a man possessed by NTR himself with all the swagger and passion. As a dancer, Balayya has been always rhythmic but to groove like NTR in "Vetagaadu" requires special talent. What Balayya lacked in the resounding baritone of his father, he makes it up with epic mannerisation of his dad as Duryodhana, Brihannala and Krishna in some of the scenes. While everyone tries to pull of their might, the ones who truly impressed in the starcast are Vidya Balan (as Basava Tarakam), Sumanth (as ANR), Daggubati Raja (as NTR's brother Trivikram Rao), Kalyanaram (as Harikrishna), Prakash Raj (as Nagireddi), Sai Burra (as his makeup man Pitambaram) and Rana Daggubati (as Chandrababu Naidu). OF course, Krish the director re-enacts as KV Reddi garu (as in "Mahanati").
While "Mahanati" the biopic tries to show the black, white and grey shades of what led to the rise and downfall of South India's first lady superstar, "Mahanayakudu" shows the most empowering virtues and enabling drivers of NTR in ways that one can imbibe in our lives too – details about financial planning, expense control, respect for punctuality and work, respect for colleagues and women, ability to take feedback and seize initiative and take calculated risks and help people who helped you in the initial days. More importantly, respect for rivals and upstarts has been NTR's trademark quality that made him different and sought-after. When you make a two-part series in NTR's rich life, there are bound to be omissions on the degree of detailing and commissions on the episodes chosen to enhance his charisma and outreach for masses. For example, how NTR commissioned the best of experts in other fields like Nani Palkivaala etc to plan his estate, how he interacted with fellow superstars of other languages etc. could have also been touched to impart interest from other language audiences.
Music-wise, the best song in the album comes at titles and that leaves a void in the film's relief moments – even if there is never a dull moment in the film. Cinematography is good but could have been better – that you can see the wig of Vidya Balan as a cancer patient is not acceptable in a film of this scale. In titles, the big mistake is to inter-mix graphical images of both Balakrishna as NTR and NTR himself in different roles. They should have stuck to NTR in full glory in his epic characterization of many roles to give a sonorous imagery of the greatness of the man in Kailash Kher's voice and MM Keeravani's soulful music. Despite these flaws, "NTR-Kathanayakudu" will be a worthy film for keeps and history buffs and for billions of NTR fans. Krish along with his writer collaborator Sai always gives an intelligent and subtle interpretation to any subject with all the seriousness and orderliness that it merits while bootstrapping the budget. Those lines about farmer's woes, Tollywood's impending greatness, the lectures to Savitri on money, what NTR believes about giving good films and entertainment (even if it irks his own teenaged daughters) tell you the kind of homework and subtle touches the writer-director duo did to the script. For all those efforts and the justice done overall to NTR's personality in the first part, watch it with all those who adore him and who want to know more about him.