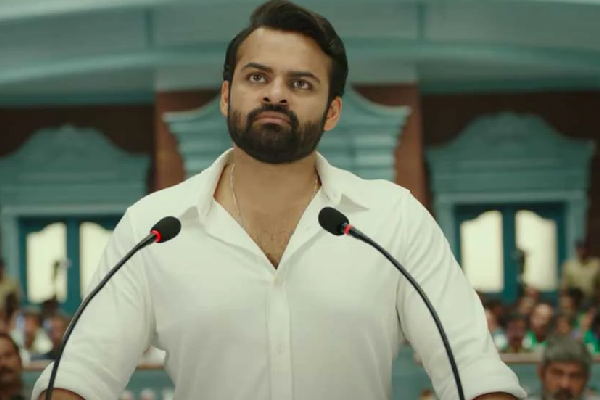 Republic movie review
Telugu360 Rating : 2.5/5
Story :
Academically brilliant Abhiram skips MIT admission to join IAS. Being an honest youngsterhe even opposes corrupt father(JagapatiBabu). After becoming district collector with special powers, Abhi takes on VishakhaVaani(Ramya Krishna),the chief of ruling party. Based on Telleru Lake (pseudo name given to Kolleru Lake) conflict, this political drama further gets intensifies when Abhi fights with the corrupt system.
Analysis:
After a long time in Tollywood, a full time political drama film has arrived but with its own flaws. Director of the one of the finest films ' Prasthanam'Deva Katta, stamps his intellectual at the beginning of the film with Devil Fish analogy which sets the mood of the film. Characterization of protagonist Abhi, lead scenes to his ideology are impressive. Abhi portrays a highly qualified youngster who sacrifices USA prospects to serve his own state. Abhi becomes district collector to clean up the system to possible extent, but political system counters him. On the other hand, local politician Visakha Vani's son becomes chief minister and she is in charge of the party. Telleru Lake politics lead to an NRI Varun Hansen murder, his sister Myra ( AIshwarya Rajesh) comes to India to find out the facts and she gets help from Abhi.
Deva Katta touch bases the fake encounters occurring in Telugu States. He throws spotlight on the vote bank politics, and also wrote powerful dialogues against fascist political parties like Shiv Sena . Despite honest take on the contemporary politics. The director struggles to narrate the story in engaging manner. Poorly written Aiswarya Rajesh thread is a negative aspect. The climax is another weak point.
Performance: Sai DharamTej gets into the skin of the character of Abhi, delivers matured performance with ease. Aiswarya Rajesh character is of sad tone throughout the film she delivers adequate acting. JagapatiBabu plays Abhi father with negative shades ;Ramya Krishna is under-utilized.
Positives:
Honest Theme
Sai DharamTej's matured performance
Good dialogues by Deva Katta
Negatives :
Weak Climax
Back-stories are not emotional
Slow paced second half, Inconsistent Screenplay
Verdict:
'Republic' is an honest political drama with hard-hitting dialogues. While prime characterizations are good, as a package the film lacks the required punch. Sai Dharam Tej shows a matured performance. Overall, A different kind of movie strictly for Political movie lovers.
Telugu360 Rating : 2.5/5
Summary
Reviewer
Review Date
Reviewed Item
Author Rating