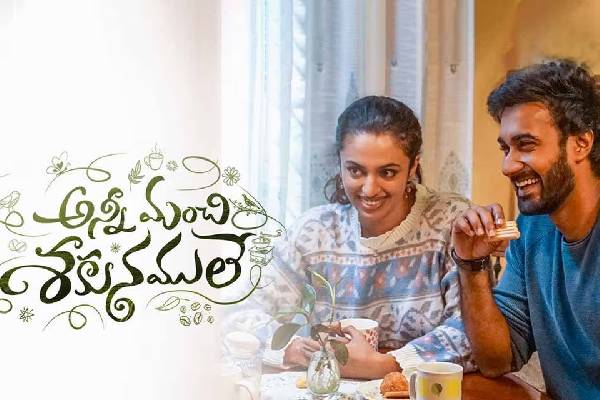 Anni Manchi Sakunamule Movie Review
Anni Manchi Sakunamule Movie Review
Telugu360 Rating 2.5/5
Story:
Set in hill station Victoria Puram, Prasad (Rajendra Prasad) and Divakar (Rao Ramesh) families are in a decades old court battle over forefathers' coffee estates. Divakar's brother Sudhakar is played by Naresh. Rishi (Santosh Sobhan) and Arya (Malvika Nair) are born to Prasad, Sudhakar families respectively. Due to hospital staff mistake, the newborn babies interchange and grow up with different parents. Arya grows up as an independent lady with business acumen, Rishi is a street-smart guy, and they are friends with each other. Rishi tries his way to bring back the lost estate to his father.
Analysis:
' Anni Manchi Sakunamule ' takes off in an interesting manner but by the interval time it becomes a tedious watch with its slow paced narration and too many characters. The best elements are reserved for the second half. The coffee estates backdrop to the story, hill-station locations and authentic conversations written for upscale families etc. points make this film stand out among the routine dramas. Director Nandini reddy is known for sensible scenes delivered few such in this film as well but the court case feud between the two families isn't enough to run the film. On other note, Rishi Arya friendship cum love track could have been better. The excessive screen time given to senior actors would have been transferred to the young pair 's love moments as such.
Santosh and Malvika, Rao Ramesh, Gauthami, Rajendra Prasad, and Naresh are the strength of the film.. Characters played by Vasuki, Ashwin, Vennela Kishore and Urvashi are brief. Micky J Meyer's music supports the film, Cinematography by Sunny Kurapati and Richard prasad is very good. Swapna Cinemas production values are outstanding.
Positives:
Santosh and Malvika Performance
Superb production values
Character artists casting
Soothing music
Final act
Negatives:
Very slow-paced narration
Poor Script
Weak conflict points.
Verdict:
A class film with few feel-good moments, few lighter moments, homely conversations, melodious songs, solid production values and good performances. All these positives are pretty much undone with ultra slow-paced narration, lack of story, and wasted first half. This film might appeal to a very limited section of the audience. Overall, a potential poignant tale is missed.
Telugu360 Rating 2.5/5