Notwithstanding the setback he has suffered in recent cash-for-vote (CFV) scam, AP CM Chandrababu Naidu is determined to take on ruling TRS in byelections to Warangal Lok Sabha and Sanathnagar Assembly constituencies. He asked the Telangana TDP leaders to get ready to face challenge and prove that TDP was the real alternative to TRS in new state. Warangal bypoll is necessitated by the resignation of Kadiam Srihari, who joined TRS cabinet, Santhanagar is sure to go to polls once the mystery of resignation by Talasani Srinvasa Yadava is resolved by the High Court.
In the backdrop of Congress' heightened preparations for bypolls and the talk of Meira Kumar's likely condidature from Warangal, on Wednesday,Naidu had summoned available Telangana leaders L Ramana, Ravula Chandrasekhar Reddy, Aravind Kumar Goud and Krishna Yadav to his residence. He asked them to organize T-TDP general body meeting to discuss the strategy for Warangal byelection. Tentatively the meeting is scheduled on August 12. Naidu will also participate in the meeting. Naidu thinks that anti-incumbency in Telangana has been on the rise and KCR's broken promises such as failure to come to the rescue of farmers, power shortage, steps like Osmania Hospital shifting, resentment among the students etc are enough to pull the rug under the feet of KCR in elections. As part of the strategy for elections, TDP leaders will up the ante against the TRS government by staging dharnas and organizing meetings regularly across the state including capital Hyderabad.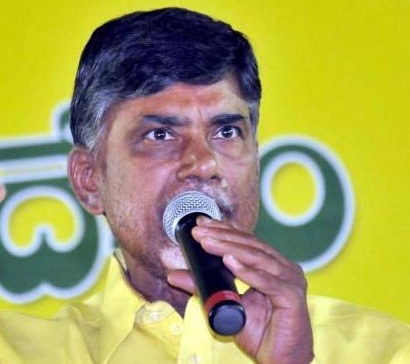 Naidu discussed the elections to Sananthnagar and GHMC with city leaders Sayanna, Maganti Gopinath, Praash Goud, and Arikepudi Gandhi.
Aware that T-CM KCR would bank on the alleged involvement of Naidu in CFV to beat TDP in elections, the AP CM is readying the aresenal to neutralize it by raising proven phone-tapping by TS government which he says illegal. While Telangana ACB has not conclusively demonstrated the role of Naidu, the telephone-tapping by TS government is established truth. The cellular operators, who tapped the phone, in a petition in Supreme Court admitted to the tapping of phones. Later Supreme Court directed these companies to part with the call data in a sealed cover and furnish it to the trial court in Vijayawada. Now, the TRS government categorically informed to Hyderabad High Court that it did bug the phones, but was done lawfully. So Naidu wants to use this admission as a poll plank.